By Kids, For Kids: Xavier and Zulou's Backyard Camping Tips
There's been a whole lot of sub-trends that have accompanied the impact of the coronavirus. For example, you can't scroll through your Facebook feed without coming across a hundred zillion of your mates' 10 albums that influenced their taste in music, your foodie friend's latest iso-meal or your boozehound buddy's freshest iso-beer.
There's also smatterings of impressive camping set-ups, that make the rest of us without big enough backyards (or no backyards at all), well, scroll on quickly.
But if you're backyard camping-curious, a couple of Sydney-based kids – Xavier (8) and Zulou (6) – have joined Australian outdoor adventure brand BlackWolf to put together a cool illustrated guide.
From how to set up your camp and roasting marshmallows on the fire to what to do when it's dark, Xavier and Zu have you covered!
Blackwolf Xavier and Zulou (1)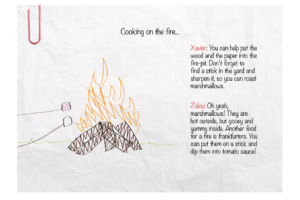 ---
---
---