Three Bang-For-Buck Tips for Fighting the Dad Bod
It happened overnight. One day I was an active guy with a social life. The next, a sleep-deprived zombie who spent his days changing diapers.
The expansion of my waistline, however, was gradual. I didn't notice it — until I went shopping for new jeans. When I tried on my usual size, the clerk insisted I needed a bigger pair.
I was gutted. Then I was inspired. I bought the jeans that didn't fit, vowing to make them fit.
Only I couldn't spend two hours a day at the gym anymore; I was a father now.
The good news, I learned, is that you can maintain your fitness without leaving home or neglecting your family duties.
Here's how I do it:
Short, Intense Workouts
Busy dads have to be flexible and opportunistic when it comes to exercising: anytime, anywhere.
As a new father, I exercised at home for fifteen minutes a day while my wife nursed our daughter. These short, explosive workouts build muscle and torch fat — and you're still available to clean spit-up.
Here's a simple workout I often complete while my daughter sleeps in the stroller:
10 Push-Ups
10 Squats
Repeat the superset 10 times, with minimal rest between each movement
Eat Regular Balanced Meals
If your diet was bad before fatherhood, it's likely gotten worse since then.
You don't need to eat salad every day, but you can limit cravings and maintain your blood sugar by eating balanced meals of proteins, fats, and carbohydrates every three to four hours.
Keep it simple by cooking meals you can prepare in minutes.
I bought the jeans that didn't fit, vowing to make them fit.
Optimise Your Sleep
As parents, it's critical to optimise the sleep you are getting to ensure it's restorative.
I recommend keeping your phone out of reach. Reading emails in bed until your eyes burn only prevents your body from getting the quality rest it needs. Shut down now so you can be present later.
Tailor your health and fitness goals to your new lifestyle by thinking small and staying flexible.
Don't wake up years from now unhappy and unhealthy; take action today that's realistic and sustainable.
Implement this three-pronged approach to fighting the dad bod and you might not regain your social life, but I promise you'll be the strong, healthy father your family needs.
Visit ForgingEliteFathers.net for a free copy of Kevin's ebook Top 10 Go-To Workouts. You'll also receive a free three-day Forging Elite Fathers Quick Start Course, which provides busy dads with dozens of ways to optimise their fitness, nutrition and sleep.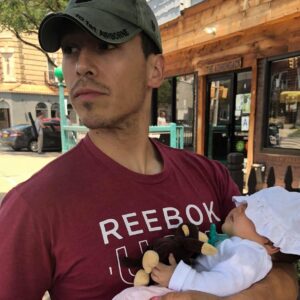 A New York City native, Kevin Torres is a CF-LI trainer and the host of the Dad Bod WOD Podcast, a weekly podcast for a community of dads who are "forging elite fathers."
Connect with Kevin on Instagram, Facebook, or DadBodWOD.net.
---
---
---