Grieving Parents Turn Heartache Into Hope
The parents of an Australian terror attack victim have launched a not-for-profit charity that aims to support and treat individuals dealing with traumatic grief.
Mark and Julie Wallace have established Sarz Sanctuary in loving memory of their daughter, Sara Zelenak, who lost her life at the age of 21 in the London Bridge and Borough Street Market terror attack in June 2017.
While fulfilling the Aussie 'rite of passage' of moving to London to travel around Europe, Sara's life was tragically cut short – only 26 days before her parents were to reunite with her on a trip to Paris.
Now the Brisbane couple are raising funds for the charity to open Australia's first free holistic grief healing centre on the Sunshine Coast, which will offer a wide range of traditional and non-traditional grief therapies.
Mark and Julie have been busy with fundraising activity, recently cycling for eight days from London to Paris in an event called 'Meet You in Paris' – the words of the last text message Julie received from Sara hours before the attack. An experienced personal trainer, Julie will also lead 'Sweat for Sarz' fitness events across the country to raise funds.
We caught up with Mark and Julie recently for a chat about Sara, Sarz Sanctuary, parenting and the process of grief.
TDW: Thank you so much for your time, Mark and Julie. We'd love to hear a bit about your journey since the tragedy in June 2017.
Julie: Losing a child is the greatest grief a person can endure, but my emotions from knowing Sara had been murdered at first to now have changed. There is an initial shock that pulsates through your body with total disbelief that consumes your every moment; shock is the first emotion that anyone dealing with grief must manage. Each day presents small unexpected challenges and emotions. Now, with time, I know I can have fun and share laughter with friends; though deep inside I will always have an empty space that will never be filled. Building Sarz Sanctuary gives me hope and a positive outlook to help others who have suffered sudden traumatic grief. This is a club that I wish nobody joined, though if they do, I am there to support in any way I can.
Mark: As time passes, I am slowly accepting that Sara won't bounce through the front door. There are days when a small thing will trigger an emotion unexpectedly. This is when I need to accept the emotion, understand why it has raised its head, then reset to positive thinking and focus. Sarz Sanctuary enables me to focus positively every day and has connected me with many wonderful people who devote their lives to a similar mission. Sarz Sanctuary will educate people on how to deal with traumatic grief, and it will help many people find a sense of peace.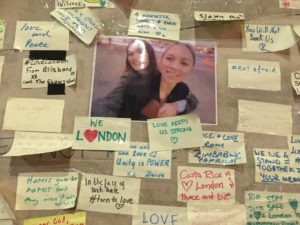 TDW: How has community support been over the past 15 months?
Mark: Community support both here in Australia and in the UK has been overwhelming. Our local community in the Redlands, South East Queensland, has helped us cope with the death of Sara and also help us to build Sarz Sanctuary. Many local individuals have offered their time and services which are much needed to create the not-for-profit foundation. In addition to local help, we have received offers of help from across Australia which we will call on very soon as we find our feet. The community in London also has been incredibly supportive as we create a Sarz Sanctuary foundation in the UK.
TDW: Tell us a bit about Sarz Sanctuary and what you hope to achieve?  
Mark: Creating Sarz Sanctuary is our way of honouring Sara's life and keeping her spirit alive. We have named the charity using her nickname 'Sarz' and included her own handwriting as our logo. The charity's mission is also a true reflection of the kind of love Sara taught everyone around her when she was with us – unconditional, unchanging, without barriers, forgiving, nurturing and supportive; a love that can lift others from defeat.
Right now our focus is on fundraising and looking for financial support to create and build Sarz Sanctuary, though as we build, it is our ultimate goal to have the foundation self-funding in the next five years. We are currently in the process of developing an online shop that will sell item such as candles, reed diffusers, hand soaps, beauty products and even jewellery; 100 per cent of these profits will go to Sarz Sanctuary. We are aiming for the first Sarz Sanctuary to open in late 2019, though our first week-long program is set to roll out as early as February 2019 at a hired venue.
There is no right or wrong when dealing with grief.
TDW: Tell us a little about Sara; did you have any special dad-daughter and mum-daughter things you did together?
Julie: Sara and I were the exact same height and weight. She was a mini me; a younger, better version of myself. Sara would use my wardrobe as hers; we would tint each other's eyebrows and eyelashes fortnightly. We were sometimes so alike that we would humorously clash to see who is boss (laugh). Sara would even take the role of being the mother, looking after her youngest brother when I wasn't around.
Mark: Sarz and I had a very close relationship. We could chat about anything and share the same humour. One of my proudest moments and fondest memories was Sara working with me as a crane operator and right-hand man (girl) in our drilling company. In her hi-vis with red painted finger nails, eye liner and makeup. Gosh, she would make me laugh. She was so determined and no bloke was going to outdo her. Sarz would work flat out all day then sleep all the way home in the ute. Everyone in our family had a very unique relationship with Sara; she truly connected with everyone in her life.
TDW: People handle grief in different ways, as you've discovered, but if you had to give one piece of advice to parents grieving the loss of a child, what would it be?
Julie: Do what feels right for you. Don't listen to others. There is no right or wrong when dealing with grief.  
TDW: Tell us a little more about your fundraising efforts to open Australia's first free holistic grief-healing centre?
Julie: We have the following fundraisers planned:
Dec 15th, Christmas Cocktail party supported by Old Girls Association; Moreton Bay College, Wesley House – Brisbane
Meet You In Paris bike ride, 24/06/19 – 29/06/19, leaving London Bridge – Eiffel Tower, Gala dinner reception (29/06/19), pre-register at www.sarz-sanctuary.org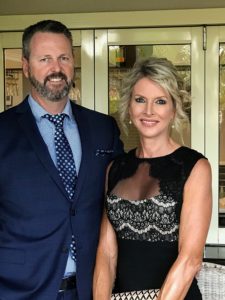 TDW: Fifteen months on, how are you both?
Julie: Each day has its challenges. I miss my daughter so dearly and just want one more chance to hug her tight. I feel Sara in my heart every day guiding me to create Sarz Sanctuary, though I miss her infectious laugh, her eyes that smile, and her touch.  
Mark: Sara is a powerful soul. She has connected a nation and touched so many people and communities. Creating Sarz Sanctuary helps me grieve and to make sense of such a senseless and violent act. Daily using her name and seeing her photos and sharing her life journey keeps Sara among us. Sharing our story helps others to open up and share their personal grief. Conversation is a great healing tool.
Mark and Julie are urging Australians touched by this story or touched by grief to help their mission by donating via https://sarz-sanctuary.org.
---
---
---