Hadleigh Fischer: 'Mental Fitness' Fanatic and Founder of The Resilience Agenda
Growing up in a family affected by mental illness, Hadleigh Fischer went on to become a career coach. It was these experiences, and those of his colleagues and friends, that led him to create the Resilience Agenda, an organisation dedicated to changing the way we look at mental illness by focusing on our mental fitness.
Thanks for joining us, Hadleigh. Let's begin at the beginning: Why did you start the Resilience Agenda, and what is the "Resilience Agenda agenda"?

Resilience Agenda is a proactive way of thinking, or more importantly re-thinking, about our mental health and our attitude toward it.
I started Resilience Agenda because I found that whilst the current campaigns around mental health have achieved many good things, mental health awareness needs a new approach. We want people to talk openly about improving their mental health by improving their mental fitness. Our vision is a world where people talk about mental health just like their physical health.
What's the big goal of the group?
My goal is to see proactive mental health become something that people openly talk about, and take action on. Not just when they are struggling, but for everyday people. I want to change the meaning of mental health away from dark topics, and make it accessible for everyone through the metaphor of Mental Fitness. Getting and feeling 'mental healthy' if you will.
Where did the motivation come from to start Resilience Agenda?
I grew up in a family affected by mental illness. I didn't really know much about it at the time, it was just there, kind of normal. But I remember being really embarrassed about it. And it wasn't until the last four or five years with public awareness campaigns that it came more out in the open. I kind of started to rethink things. I started to read. I started to ask questions. I started to become more self-aware.
As I got older I also started to see stress, anxiety, depression and other mental illnesses in friends, family members and colleagues. I wanted to do something about it. And I decided that changing the meaning of mental health was a really good place to start.
Why does mental health awareness need another approach?
Mental health campaigns aren't 'relevant' for many people because many of the topics discussed are too 'dark' to be relevant. I believe that by talking about the positive aspects of mental health such as optimism, gratitude and mindfulness in a comprehensive way (by using the easily visualised term 'mental fitness'), people will be more open to taking preventative action themselves, and eventually become better supporters to their friends and family who are experiencing mental illness.
So what is mental fitness?
Mental fitness is just like physical fitness. It's about training our minds to be in the best shape possible so that we can be happier, more successful and more fulfilled, experience better relationships, make better decisions, and hopefully avoid severe stress, anxiety and depression.
How can we become more mentally fit?
It begins by deciding what kind of lifestyle we want to lead and how we want to experience life by continually working on the way we think. By becoming more aware of our thoughts, we can be better equipped to respond to life's ups and downs, we can then turn challenges into opportunities. It involves embracing optimism, presence, mindfulness, gratitude and attention, and then making their use a habit, not an exception.
I want to help people build their mental fitness, just like they do their physical fitness. That's the vision for Resilience Agenda – to get people taking concrete steps to develop their mental wellbeing, which ultimately improves all aspects of life. By talking about mental health in a positive way, this will open the door to the powerful message of mental health awareness and action. The action bit is the key, we need to start training our minds.
We need to learn how to resist the temptation to over-indulge our unhealthy thoughts.
How does Mental Fitness relate to Physical Fitness?
The way we use our mind, the things we put into our mind, the way we talk to ourselves all affects the kind of life we lead. For example, running, weights, yoga are all exercises for the body whilst gratitude, mindfulness, meditation and developing focus and attention are all exercises that can be done for the mind.
The type of food we put into our bodies affects our health. Vegetables and proteins are good for us. Sugar and fats are okay in moderation. The same is true for our minds. Information is the food for the mind. Excessive social media, constant and purposeless smartphone 'checking', negative talk (or people), and uncritical information acceptance is bad for the mind.
Monkey mind (you know, that constant unhealthy chatter) is like going to a buffet dinner and stuffing yourself full of food every day. We need to learn how to resist the temptation to over-indulge our unhealthy thoughts.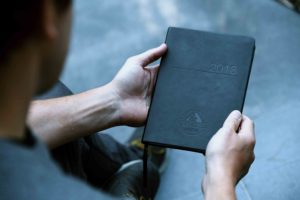 You're bringing out the Resilience Agenda Mental Fitness Diary, which makes it easy for people to introduce mental fitness into their day-to-day. Please tell us more about that.
It's a beautifully designed, everyday 2018 planner, diary and organizer. Jam-packed with positive mental wellness tips, strategies for developing habits and practical ideas about becoming more self-aware and building a great life. In short, it's a great diary that just happens to serve as a personal trainer for mental fitness. Over time we will launch new products and services that help people integrate positive mental health messages into their everyday life.
What's the future direction for the Resilience Agenda?
I have an ambitious vision whereby I want to develop a lifestyle brand for people who, like me, believe in positive and practical mental wellness. I think that daily reminders of the 'mental fitness lifestyle' around the home or office are the way to embed this in people's lives. Whether it's calendars, notes, or other daily items, building habits and systems is the key to positive change.
For more information on the Resilience Agenda, or to purchase a diary (retailing at $39), you can visit their website here. Hadleigh has kindly created a discount coupon for the diary for The Dad Website readers: RADADS.
October is Mental Health Month in NSW. For events and other information, click here.
---
---
---