Hawke's Brewing Co: A Boys' Own Tale
It takes some balls to leave the comfort of a secure job and chase a dream. Many threaten to – often while running with the charge of a few beers too many – before the weight of reality kicks in.
But that's exactly what advertising creatives Dave Gibson and Nathan Lennon did when Hawke's Brewing Co. – a beery collaboration with former Australian prime minister and yard-glass world record holder Bob Hawke – started to take shape.
(For Dave, there was another small matter to contend with: becoming a dad. "My daughter Rose, who is now two going on 22, was on the way when we quit – which, looking back, was mental.")
A couple of years on and Hawke's is going great guns. Now a seven-man operation – alongside Dave and Nathan there's head brewer Justin Fox, general manager Richard Spicer, national sales director Stavros Yiannoukas, sales reps Jack Shirnack and Ross Tipper and finance manager Matt Bourke – Hawke's continues to grow. Their flagship lager has been recognised in the most important circles, their newly released Patio Pale Ale is hitting taps and retail shelves across eastern Australia, and they're set to launch their own brewery in 2019.
We sat down with Dave to recap the Hawke's journey to date.
Thanks for your time, mate. Let's start with how the idea for Hawke's Brewing come about?
Nathan and I were living and working in New York at the time. It was Australia Day, we were looking out at a bleak Wall Street in January, and on Instagram our friends back in sunny Australia were having a ball. We were feeling a little homesick, to say the least. Nathan asked: "If I were back in Oz, who would you most like to have a beer with?" I said Bob Hawke. Funnily enough, Nathan was thinking the same thing. We got chatting about what a beer company with Bob at the helm would look like, and our conversation turned into a fully-fledged concept. Next thing we knew, we were emailing Bob via a mutual friend.
I'd be a bum if I didn't give you a go…
What has been Bob's involvement?
He'd seen an initial presentation over email but wanted to meet us in person before giving us a hard "yes".
Nathan and I agreed with each other before sending off the proposal that if Bob gave us any sign it was going to be a "yes" then we'd quit our jobs and go for it – which is exactly what we did the minute we heard he wanted to meet us; we were on the first Qantas plane back to meet him in his kitchen over crosswords and coffee.
Looking back now that was pretty stupid, but thankfully it worked!
We were halfway through our pitch when Bob stopped us and asked why we thought it would work. We said: "It has to Mr Hawke, we've just quit our jobs."
To which he replied: "I'd be a bum if I didn't give you a go."
And here we are. I think he really appreciated the fact that two blokes had given up everything to have a crack at this.
How did you raise capital?
All the initial capital was our combined life savings. (It's not like I could have afforded a place in Sydney anyway; better throwing it into a beer company!) We have since brought on a small amount of external investment to help grow the business, especially as it's such a cash-hungry business.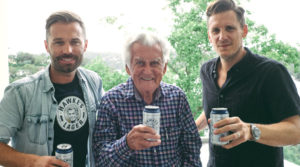 We see Bob every two or three months to update him on how things are going. This is always over a beer at his favourite place in the world – his patio. He tastes any new beer, shares advice and tells some great jokes (which I won't repeat). But his greatest involvement and interest is our partnership with Landcare Australia, which he helped turn into a national movement when he was in office. Bob donates all his royalties for his involvement with Hawke's Brewing to Landcare Australia, which is a testament to his generosity.
Why beer as a career?
Beer is exciting – being able to work with amazing people like Justin Fox, who can experiment on his homebrew kit in his shed and come out with great tasting beers, is really inspiring and humbling. The independent brewing industry are also all very supportive, and like Bob, they're very community-focused so that's been great.
What's the best and worst thing anyone's said about your beer?
Winning the Best Australian-Style Lager trophy at this year's AIBA awards would be the best thing that's ever been said about us. We are very proud of that moment, as is Bob. And I guess the worst thing I've heard (to my face) is that we're a gimmick/one-trick pony. I can see why someone who hadn't tasted the beer might say that. This is exactly why the product had to be really good and why we were so lucky to have found Justin, one of Australia's best brewers, who created our award-winning Lager and our Pale Ale.
Tell us a bit about the new brew, the Patio Pale Ale?
The brief we gave Justin was to create something that we hadn't tried before. He created a sessionable pale but with plenty of flavour, delivering a big floral aroma including tropical notes of lychee, stone fruit and citrus. Using Mosaic and Ekuanot hops, he's created something that punters and judges are already loving. The inspiration for the name came, of course, from Bob's patio, where you will find him most days sitting in the sun, doing his crossword.
What other beers take your fancy?
The guys at Balter do a stellar job of creating amazing beers, and closer to home, you can't go past Batch, Grifter or Willie the Boatman (who also has a beer named after a Labor pollie). Overseas, I would suggest if you're ever in Brooklyn NY, go to Green Point Brewing and try the "Instant Credibility" Double IPA.
Do you think lager has been unfairly chastised in craft beer circles?
Yes, I do. I'm no brewer but what I've learnt and what a lot of people probably don't know is it's very hard to make a good lager; you can't hide behind a lot of hops to mask any faults. Interestingly, a lot of craft breweries are starting to produce lagers so I think the unfair chastising maybe slowly coming to an end, and it's great to have some variety in this style, made by independents, when it has always been the domain of the big guys.
What's your future vision for Hawke's?
Next year we hope to open our brewery which we are very excited about. It'll be a place where you can come and experience the brand at a deeper level, while drinking a great expanded portfolio of quality beer. We also want to continue to grow and nurture our Landcare relationship which is a very important element of the brand for us.
How has life been, balancing fatherhood and a start-up business?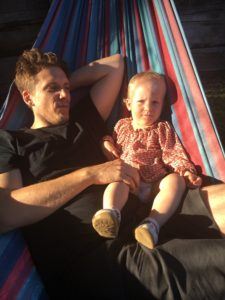 I won't lie; it's been bloody hard – essentially having two babies! I am very lucky, though, as my wife is extremely supportive and amazing, otherwise I'd be lost. Time-management is something I need to get a lot better at and I always make sure I prioritise quality family time every day, because Rose is the most important baby and always will be.
How do you think the modern dad is faring?
Of the dads I know, I think they are faring well, but I think it's very important all dads have a responsibility to continue to teach their sons to treat all women with respect, so we can really put an end to what has been going on for centuries (but brought into the public eye in recent years.)
Aside from this, I think all parents are up against it with the screen exposure and use in this digital age. I think it's going to be hard to really minimise their reliance on these things and just play away from screens like we did in the '80s.
You were an '80s kid, yeah?
Yes, I am a '80s kid and proud of it. It's probably where the love of Bob came from. I was born, and spent all of the '80s, in Geelong, going to see the mighty, Gary Ablett Sr.-era, Cats play every home game with my dad at Kardinia Park. My favorite TV shows were Knight Rider, Monkey Magic, The A-Team and Magnum, P.I. (great mo and car). My old man drank VB most of the time, but had Crownies (the old "golden microphone") or Boag's Premium (he's from Tasmania) when it was "a special occasion".
Finally, our Heart Talks question: Five things Rose should know by the time she turns 18?
Financial literacy
How to drive a manual
That mistakes aren't mistakes, merely learning experiences (stole that from Stav)
They can be anything they want in life
How to make pizza dough (pretty important in our house)
For more information on Hawke's Brewing Co., check out their website.
---
---
---