Grieving and Blogging: A Chat with Chris Martin, Just a Dad
When Australian dad and blogger Chris Martin's late wife, Renee, was diagnosed with cancer, she was 16 weeks' pregnant with their second child. After "fighting like a warrior for two-and-a-half years, until there was nothing left in the tank", she passed away, leaving Chris to raise their two children – Grace and Albi, now 9 and 5 respectively – on his own.
The Dad Website caught up with Chris recently for a chat about the blog he created following his wife's passing, Just A Dad, which, in his words, is "part self-therapy (better out than in), part explanation (to my family and friends) and, hopefully, part -help-resource for others who find themselves thrust into a life unwanted, undeserved and unplanned due to the loss of a beloved partner."
Just a Dad: some back story.

"Just A Dad was initially both a cathartic exercise and a way to let my friends and family know of my current mental state, as I have always found it easier to write about my emotions and feelings than to talk. With the inevitable recounting of my story to new friends after we moved state, I was dumbfounded by to hear of so many other guys going through similar journeys to me after losing their partner. With the proliferation of resources for mums and women online in general I thought, by going public with my journey, it may just enable other guys to realise they are not alone; to feel connected. I guess in the long-term I would like to morph this somehow into a career; exactly how is yet to reveal itself."
Balancing grief while being a good dad.

"Having to be strong, happy, positive and supportive is one of the tougher things about having to deal with grief and raise children simultaneously. I don't hide my emotions from them but I reserve my darkest moments for when I am alone. Obviously they know, and need to know, that losing their mum upsets me and always will, but they also need to see that she would want us to carry on and try to forge a happy life for ourselves."
Losing Renee has definitely been a rollercoaster of emotions.
"The obvious feelings of loneliness, sadness and loss are omnipresent, but as time goes on, other emotions such as guilt and regret seem to be around every corner. I find these days that it is in the happiest of moments that the strongest feelings of loss and sadness present themselves. Moments when I can't help but wish she was there to partake. Moments full of love and connection."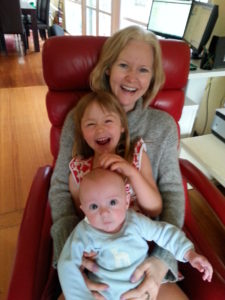 Mourning Guilt: the battle is real.
"Absolutely. Guilt is an insidious beast. From a parenting perspective I frequently feel guilty about many things. How much time I have to spend with the kids individually; how much time we spend together as a family; how I should have reacted to a situation as Renee would have, rather than my approach. The list is unfortunately endless. I realise this is not limited to solo parents but I feel it is amplified by the situation. In my experience the guilt I feel as a solo parent is also a major cause of anxiety; constantly being worried if I am up to the task of raising our family on my own."
The kids are missing the presence of Renee's female energy.
"As much as I try to be everything, I can never replace that. It is painfully obvious when we do spend time with close female friends and both our kids gravitate towards them like moths to a flame. Their own energy changes and lightens, and it saddens me no end to watch. Running a close second is alone-time with a parent. This is a constant source of frustration, particularly for Grace as she gets older."
If my children can feel like I always had their best interests at heart, that I was always there when they needed and was always loving and caring, then job done.
Advice for other grieving parents?
"Loss is such a personal and individual journey that there are no clear and structured steps that anyone can direct you towards. If anything, I would advise them to just lean into any feeling, emotion, day or situation and go with it. Don't fight it and never tell yourself that it is wrong. It is OK to lie on the couch and cry for days. It is OK to do something that makes you smile and laugh. It is OK to do things differently than you may have before. Grief is something you absorb into your life; into your core being. There is no end or answers. You are simply a new you, with the memory and love of what was, now ingrained forever."

Trying to be both Mum and Dad, from a parental perspective, is a daily struggle.
"I have always had a huge, if not equal, part in the running of the family home and daily life, but now it's a constant battle. Trying not to always be the logical, problem-solving figure is not an easy task. Finding time to be myself and grow personally is something that I also still have no answer to, and I'm not sure I ever will. I think subconsciously I have relegated me to second place."
Being a Dad these days encompasses the traditional with the new.
"While I think that being the atypical pillar of strength is important for the kids to feel safe and secure, after losing their mum I'm realising that being open and honest with your feelings in front of them is equally important. Kids these days are bombarded with so much opinion and direction that guidance in the form of leadership is more important than ever. I guess being a good role model and leading by example is paramount to being a good dad."

The Heart Talks: Five things I want Grace and Albi to know before they turn 18.
"That the world is a huge beautiful place and that they are fortunate to have been born and raised in one of the best countries on earth to live."
"That family and friendship is to be cherished."
"That money is not the definition of success; happiness is."
"That they should do, try and dream whatever gets them buzzing; passion is better than ability."
"That honesty, integrity and compassion are the pillars of a good life."
You can follow Chris on Facebook, Twitter and Instagram.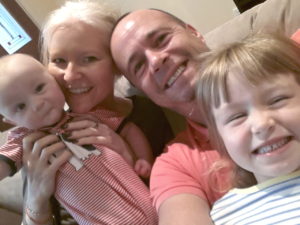 ---
---
---