Jason Mendelsohn: Superman" of HPV Awareness
Jason Mendelsohn is the first to admit he's no Superman. "I'm just a guy," the father of three from Orlando, Florida says. "I work up to 70 hours a week, have three teenagers, I'm a family guy – the usual." 
And yet, Jason has taken on the persona of "SupermanHPV."  You see, in 2014, Jason was diagnosed with Stage 4 HPV (human papillomavirus) related tonsil cancer, leading to a hellish year of surgery, chemotherapy, radiation, and even preparing "goodbye" messages for his family. 
Jason's loved ones and friends, however, insisted he would survive, and gave him the nickname he now shares with the Man of Steel. "My friends gave me Superman t-shirts to wear, stating that I was tough like Superman during radiation and chemo, " he says. 
Super Jason's cancer story began in April 2014 while taking a financial exam. Having placed a hand on his neck to ponder a question, he felt a bump. A few trips to the doctor, rounds of antibiotics and steroids, a needle biopsy and CT Scan later he received the scary diagnosis. Jason's doctors believed he contracted HPV in college two decades prior.
"2014 was extremely scary," Jason recalls. "I ended up having a radical tonsillectomy, neck dissection – 42 lymph nodes removed from my neck – followed by seven weeks of chemo, radiation and a feeding tube. Life was brutal, and I taught myself to separate my mind from my body."
My will to live and my ability to compartmentalize all that was happening enabled me to remain strong and positive for not only me, but as well my wife, kids, extended family and friends.
Through dogged determination, Mendelsohn beat his personal kryptonite, and a year into his recovery, was able tospeak at and participate in a Ride to Conquer Cancer event.
"I realized that so much of what I was finding on the internet was about the horrible side effects from treatment along with scary photos of people losing their teeth or with cracked jaws," he recalls. "I wanted to find some ways to give people hope."
Jason knew if could conjure an attention-grabbing hook and share his story, he could change some lives. Thus, "SupermanHPV" was born.
In addition to his inspiring story, Mendelsohn's "Superman" has a specific message: HPV awareness, education, and vaccination can save lives. With medical breakthroughs in recent decades, ordeals like Mendelsohn's could be a thing of the past if only more people were made aware.
"Before getting diagnosed, I never even heard of HPV-related oral cancer. I wanted people to understand that tree out of four adults, by the time they're 30, have HPV. I realised what a difference I made when I told my story," he recalls.
Local press eventually led to a call from NBC, and nationwide news presence. Then the Head and Neck Cancer Alliance (HNCA) partnered with Jason as part of their Ambassador program. 
"I'm not Michael Douglas, or Jim Kelly, or a big celebrity," he says. "But they were happy to work with me right away. For me, it provided that alignment with doctors and medical organisations that I didn't have on my own, as well as offering more opportunities for me to directly help."
Jason is now considered a valuable resource who can connect those recently diagnosed with the right kind of professional attention and personal support. "The doctors at HNCA are never too busy, the staff and support team are awesome. Everyone cares about the patients."
HNCA executive director Amanda Hollinger is grateful to the many volunteers like Mendelsohn who are members of the HNCA's Ambassador program. "HPV head and neck cancer now exceeds cervical cancer as the most common HPV-related cancer in the United States, so we've really made a coordinated effort to tie in our message with HPV awareness," she says.
"Our ambassadors are both survivors and caregivers who we engage to speak in the community about their experiences."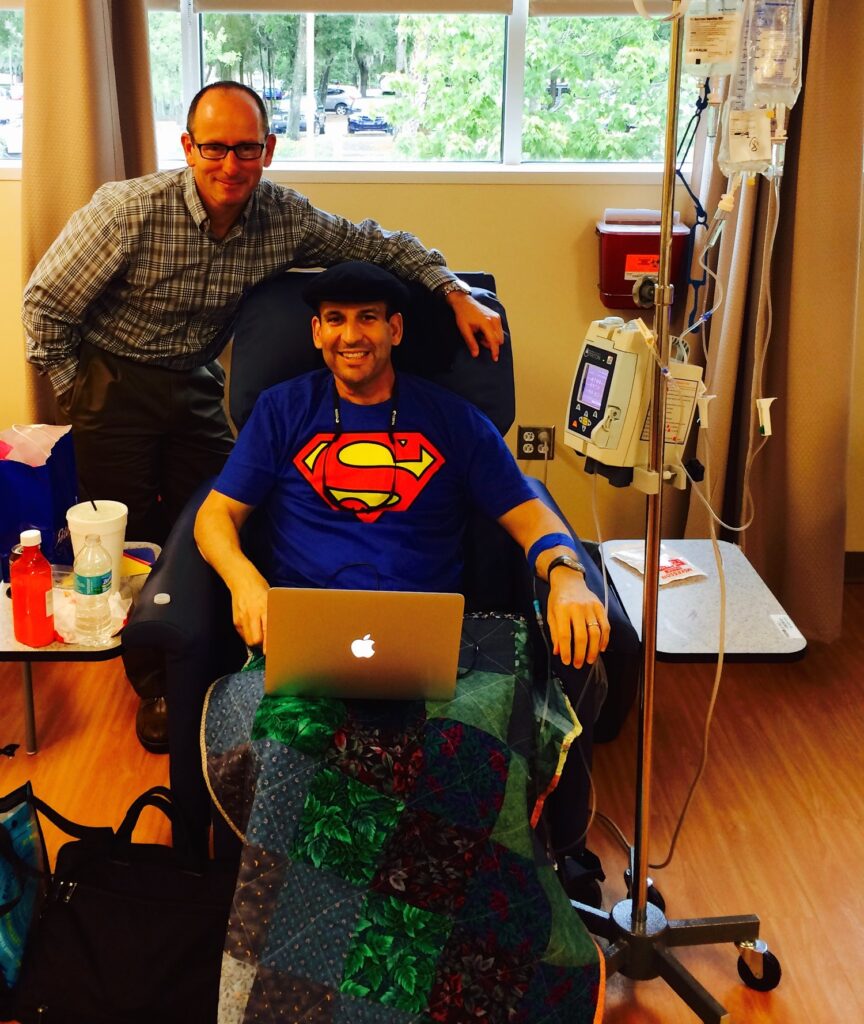 ---
---
---