George Georgievski's Four Perfect Breakfast Recipes For Kids
New research from Kellogg Australia reveals the majority of parents think their children are the biggest food critics in the family (66%) and describe their opinions as "brutally honest with no filter whatsoever" (64%).
While many parents tough it out, a third (31%) are left with hurt feelings and others are using tactics such as "getting them to help make the food" (49%) or adding extra ingredients, such as strawberries, to make breakfast more appealing (38%).
George "Lunch Box Dad" Georgievski has set about making breakfast — and, indeed, all meal times — a much more fun journey. Georgievski's foray into Instagram stardom came about when he was home sick from work and observed his wife struggling to get their two daughters — Anela, 10, and Kiara, seven — ready for school while getting herself out the door as well.
Upon asking how he could help, George was directed to school-lunchbox making. He hasn't looked back since and, now with more time to help out at home after changing jobs, prepares healthy daily lunches for his girls. "I really enjoy doing it and it's my little domestic bonding session with the girls," George says.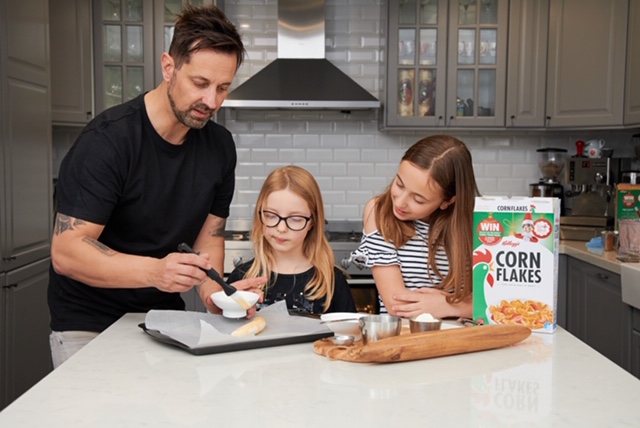 He's also taken to preparing with other meals — including breakfast. Having endured many struggles trying to get his girls to eat breakfast in the morning, George teamed up with cereal giant Kellogg to create these four kid-proof breakfast bowl creations for parents to try with their little ones at home.
Rice Bubble Waffles
"Kids can't resist fun treats like waffles for breakfast, so for special occasions, I've developed the Rice Bubbles Waffles recipe which has proven to be a huge hit in my household. This is a really fun recipe to create and best of all, you can add all different toppings based on your little one's preference. My girls love when I add fresh berries and honey as a garnish to add extra natural sweetness. The other great thing about this recipe is that you don't have to own a waffle maker if you don't own one — a grill pan will do!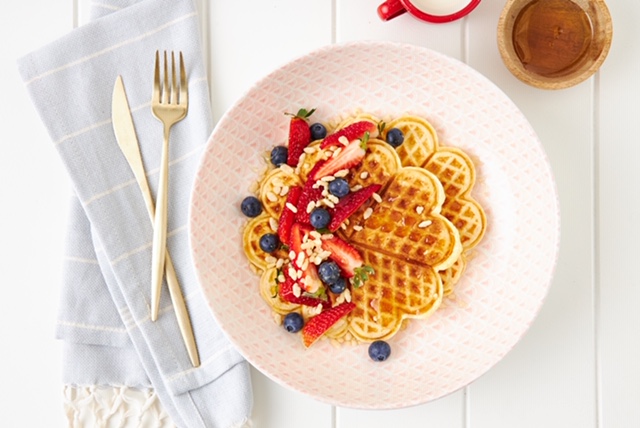 Pink Rice Bubbles Smoothie Bowl
"Not this again!' might be a familiar response from your kids. Rather than the classic — but perhaps overdone — cereal-and-milk combo, swap it for a pink Rice Bubbles smoothie bowl. Blend strawberries, berries, yoghurt and honey, and layer Rice Bubbles to create a bowl your kids won't be able to say no to. Besides the great taste, this recipe is also really visually appealing which helps get kids excited about eating it. "
Just Right Cinnamon Bowl
"This recipe was inspired by my youngest daughter who doesn't like crunch. Mix warm, frothy milk with cereal for a porridge-inspired bowl. Top with cinnamon and pear and I promise you'll eliminate 'yuck' from your little one's vocabulary."
Banana Flakes Bowl
"Would your kids be able to resist a breakfast banana split bowl? Because mine sure can't! For kids wanting something sweet and crunchy, I've developed the Banana Flakes Bowl. An unexpected cereal combo with honey, banana, Corn Flakes and yoghurt. It's almost as much fun to make as it is to eat. This one has been a huge hit with my oldest daughter because it uses all her favourite flavours but combined in a new and interesting way."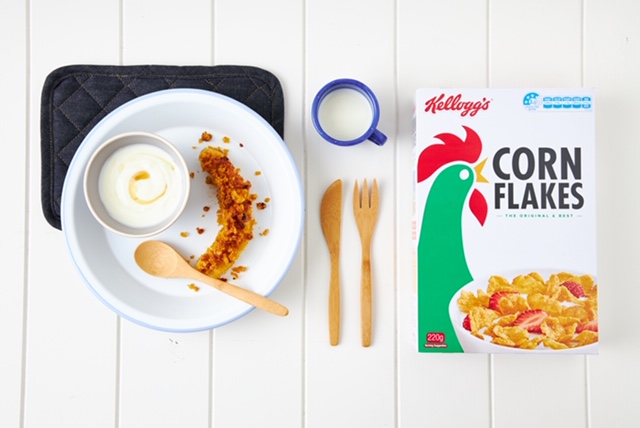 Testing the Recipes on George's Kids
"My kids are definitely the biggest food critics in my household, so they played a big part in how these recipes came about and the final results. I knew that if they didn't love these recipes, then it was most likely that these breakfast bowls wouldn't be a hit with other kids around the country.
"I went through countless rounds of trialling and testing my creations on my girls before I came to the final four recipes. Some of the feedback from my little critics including 'yuck', 'it's ugly', and too many looks of disgust to count. I have to admit that my feelings were starting to get hurt by their harsh comments, but I'm definitely not the only parent feeling this, in fact, the research from Kellogg reveals that a third of Aussie parents get hurt feelings when comes to making food for their kids in the morning!

"Hurt feelings aside, their critiques or 'constructive feedback' really helped to narrow down on what kids want to eat in the morning; something sweet, different, and most of all visually appealing. These breakfast-bowl recipes I've created definitely tick all those boxes and my girls genuinely love each of these creations.

"Best of all, the fun nature of these recipes means my girls actually want to get involved in the preparation and cooking process in the morning. This not only helps speed up breakfast time, but it also means they're excited to eat their breakfasts because they've personally helped to create it. "
To check out George's popular Instagram page for hundreds of eye (and tummy) pleasing lunchbox creations, click here.

---
---
---