How I Went From Lad to Dad In Just Three Hours
On May 11, 2015, I received a call from my mother-in-law which changed my world. My girlfriend had been rushed into hospital with terrible stomach pains that were diagnosed over the phone by the emergency services as (almost-definite) appendicitis. She was rushed into the accident and emergency department and, after a quick diagnosis, transferred to the labour ward!
As it turned out, she was actually having contractions and was six centimetres' dilated. She was giving birth to our unexpected baby! 
My partner Lyndsay, who had been to work that day, had no absolutely no symptoms. She had no baby bump; she'd been taking her contraceptive pill the entire time and hadn't had any morning sickness or a backache. Although we'd been together three happy years, we were not officially living together.
I had not known shock like it; "that" phone call will stay with me for the rest of my life.
I always professed that I didn't want kids, I was too happy going out, booking holidays and enjoying my own company. I had a cushy life; I had a lovely girlfriend and enough time to do the things I wanted.
It has taken me almost three years to even speak about the events. If I could go back in time, I would have told the "old me" that everything was going to be OK; to not worry that I had never even held a baby and to embrace the situation to make some positive change. But I was not in the right headspace then and it wasn't until Christmas 2017 that I had a reality check which pulled me back. I had a family! We had been blessed with a wonderful bundle of joy who was now almost three, and I felt ready to talk about it properly.
If I had been given a dollar or pound for every time someone asked what it's like to be a 3 Hour Dad and how I reacted, I would now be enjoying early retirement on my boat in St Tropez (OK, not quite, maybe an inflatable dinghy!) But I had never really answered anybody. Most of these amazing stories are focused on the mum and the wonderful mechanics of her body and how it could hide a full-term baby in there?! The dad does not really feature… How could that even be? I have been equally impacted; in some respects more so. I have had to change jobs, use all my life savings to move house and get my family by on a single wage.
This isn't a time-specific adjustment; this is something that is lifelong and will remain my number-one priority.
I decided it was time to let go of the shock, release those anxious feelings that I had kept under lock and key for three years and wrote an eBook, fittingly called "3 Hour Dad". The words simply poured out of me and I took sheer delight reliving the emotions of that fateful night. In hindsight, it's easy to see that my daughter was coming either way and was meant to have been sent to us. It turns out that I am quite a good dad and although I can't remember my world without my daughter, I wouldn't change a thing and have a unique keepsake to read to her one day.
We don't have any baby-scan keepsakes; we didn't have anything organised for our baby; we hadn't attended any birthing classes and we were not prepared at all to become unexpected parents. We didn't know the sex, health or whether our baby was full-term, and nobody in the family was aware.
How would you cope in the same situation?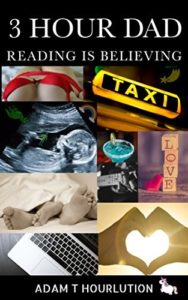 A story that can be finished within an hour if read in one sitting, 3 Hour Dad is available on Amazon (UK, US, AUS, CA), iBooks, Google Play, Goodreads and all good retailers of eBooks. From every sale – roughly the price of a coffee – Adam donates 50p (90c) to a good cause. You can follow Adam on Facebook and Twitter.
---
---
---