Nashville Muso Dean Fields Launches Dad-Themed Single and Album
In the 10 years that I've grown into fatherhood (or it's grown into me) I've often reflected on my own old man and how he handled things as a dad of much younger age than I.
When I came along, he was 23. I was almost 33 when my partner delivered my first child, and dad his first granddaughter. The decade gap is a significant one; I mean, had I replicated dad and became a "young" father, my backpacking years would've been greatly curtailed, as would the several years of generally bombed-out malaise.
By becoming a dad in his early 20s – like many men from his generation – he had big-boy purpose almost from the get-go.
It's a theme that's been active in the mind of Nashville muso Dean Fields. He's had to make some adjustments since becoming a dad to two-year-old Stuart, but they've inspired both his latest single, "My Dad At My Age", and forthcoming album While The Baby Was Sleeping.
"I gave [the album] that title because, well, I recorded it while the baby was sleeping," Dean explains. "I started recording it just after Stuart's 1st birthday. My wife would go to bed and I'd head upstairs to my studio around 10pm. I kept the microphones set up so I could get right to it."
Dean says the album was "intentionally solo, meant to reflect the quiet hours it was made". "So I would just strum, sing, pick and play 'til the wee hours. I'd usually focus on one song at a time and just play it until I got a take I liked. Sometimes I was done on the third try, sometimes the 30th. I wrapped it up in a couple months. "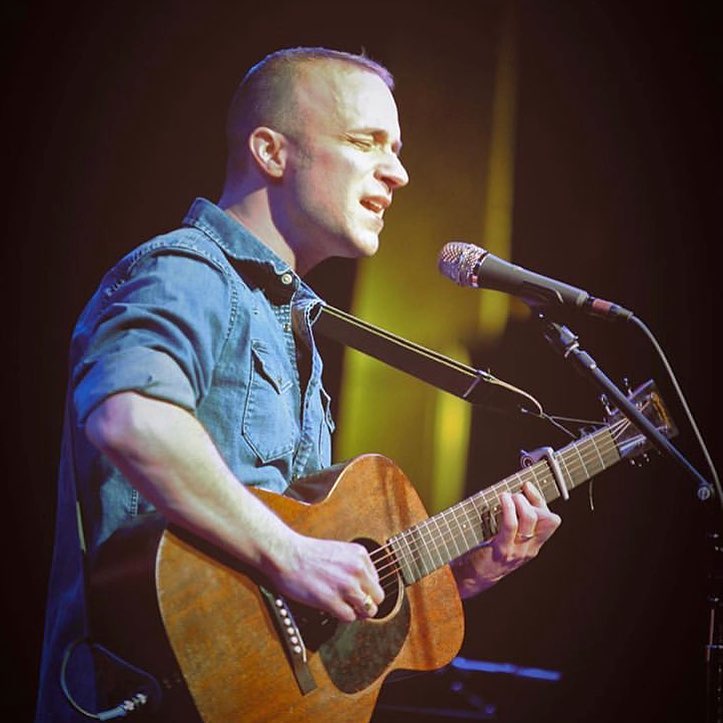 As a musician for most of his life, Dean isn't averse to hard yakka to get his sound just right. He started piano at the age of four, moved on to guitar when gifted one for Christmas at 10. His teenage years were spent writing songs, and he went on to study music in college and grad school. Then got an itch to make records and tour.
"These days I tour less and write more – for myself and for other artists," he says.
Dean says Stuart's birth changed his perspective on writing. "I've felt more attached to my writing than ever before," he says. "The themes are bigger and more nuanced as a result of seeing the world through the lens of being a dad and watching him figure everything out as well. As overwhelmed as my wife and I are a lot of the time, I feel more attached to life, living, and each day. Everything moves so fast that I just want to keep up and not miss anything. 
"It's certainly opened up my creative mind to mine more territory I had previously known nothing about. So I can see him in the lyrics even when it may not be as obvious to listeners."
The album's first single "Armadillo" was dedicated to Stuart. And then there's "My Dad At My Age". Co-written with Grammy-nominated country songwriter Adam Wright, it's a tender acoustic number borne from a line of Dean's:
Everything I know about being my son's father I learned by being my father's son…
"It's about learning as you go, and keeping a good poker face when you don't know what you're doing. In the chorus I say, "I don't know how he did it / If it was hard, he hid it / I wonder if I'm anything like my dad at my age."
Dean says he and his dad have a strong, supportive relationship. But what does the old man think of the tune?
"I send him songs I write all the time, but most of the time it's songs written for other artists to sing for country or pop radio. So when I sent this one I'm not sure he was prepared for it. It means a lot to him to watch me as I raise my son. As much as he appreciates being appreciated I think he likes the part where I wonder if he knew what the heck he was doing, too!"
"My dad at my age
Seemed to know everything.
He could patch a flat bike tire.
He could fix the kitchen sink.
He had a way of knowing what he should and shouldn't say.
I wonder if I'm anything like my dad at my age.
Trying to be gentle and tough.
Trying to be the man that he was.
Trying my best to give back some of the love that he gave.
I don't know how he did it.
If it was hard he hid it.
I wonder if I'm anything like my dad at my age.
'cause I'm tired all the time,
working round the clock.
And even if you get them
there ain't no days off.
When I aint busy breaking promises
I'm fixing my mistakes.
I wonder if I'm anything like my dad at my age.
Now that I'm older
I do what he would do:
Carry your kid on your shoulders
and the weight of the world too..."
While The Baby Was Sleeping will be released on March 6. You can pre-order it here.
---
---
---