50 Years Of the Aussie Family Wagon
It's hard to believe that only ten short years ago the Commodore was king – sold in the hundreds of thousands and loved by millions of Aussie dads. In a few short years, the SUV took the mantle and, in doing so, ended the 60-year reign of the locally-built family wagon.
Like the HR Holden of 1967, the current – and last – local Holden wagon is a big, tough, rear-wheel drive, four-door six-cylinder. Other than those basics, almost everything else about the Aussie family car has changed since the best-selling HR of fifty years ago.
Back then, Mum or Dad drove a Holden or Falcon or Valiant with a 'three-on-the-tree' column change manual, a big lazy six under the bonnet, and bench seats front and rear. A true six-seater, but you had to order seatbelts at extra cost. (In 1967 Victoria was the first state in Australia – the first in the world, in fact – to make the wearing of seatbelts mandatory.)
In this age of SUVs, it's worth remembering that the Aussie family car of fifty years ago was about the toughest going around. They had to be to cope with just about the worst roads in the world. It wasn't uncommon for Mum and Dad to pack the family into the HR to drive thousands of miles on the family holiday, often on unpaved roads, with puny cross-ply tires and drum brakes all that separated them from disaster. The only thing that could kill the Aussie wagon was rust – a surprising number of those kept under cover are still with us half a century later.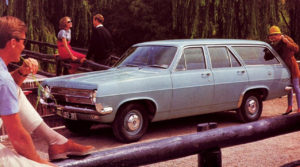 By 1970, Aussie family cars began to get safer: dual circuit brakes (with discs up front), collapsible steering column, shatterproof glass, burst-proof locks and recessed instruments. More and more new car buyers opted for front bucket seats: signalling a decrease in the size of the average family. Just as popular was the V8 engine: for status, speed and towing – it couldn't be beat.
One much-loved feature was phased out in the early 1970s– the front quarter-vent windows that pivoted to allow fresh air in. It was also used to tip out cigarette ash and butts when the centre ashtray was full. Despite the fact the Aussie wagon was a family car, there was always an ashtray mounted on the rear of the front bench seat, which usually made do as a receptacle for lolly wrappers.
Going one better than their Holden and Valiant rivals, in 1972 Falcon wagons offered the Detroit-engineered two-way tailgate. This ingenious contraption allowed Dad to drop the tailgate to carry large loads or open it sideways like a door to allow entry to the optional rear-facing kiddie seats. And the 1970s-Falcon wagon, built as it was on the long-wheelbase LTD chassis, was cavernous inside. As a 12-year-old, I once rode in the back of one along with 16 other boys, plus two full cricket kits, a set of coir mats, and the driver. Try doing that in your SUV.
Meanwhile, at Chrysler, the big new Valiant wagon made for a comfortable family cruiser, going one better than Ford and Holden with a range of vastly superior 'Hemi' six-cylinder engines. But Ford and Holden had caught Chrysler napping in other areas: the Valiant didn't have flow-thru ventilation when its local rivals offered this essential item at a time when air conditioning was too expensive for most family buyers.
It's only been in the last 20 years that air conditioning has become a standard fitting on local cars. In the '60s and '70s, it was about the most expensive option and few people ordered it. At around $2000 in the mid-1970s (roughly $8000 today), it was the ultimate luxury item.
Without air conditioning to cool the family wagon after being parked at the beach all day, vinyl seats and metal door frames could burn to the touch. The humble beach towel served a dual purpose as Mums and Dads spread them over back seats to stop the kids screaming in pain when bare skin touched roasting vinyl.
Through the late '70s and '80s, the local family car moved away from American design influence and towards Euro-chic: gone were column change gear selectors, manual chokes and fancy hubcaps, replaced by aerodynamics, soft touch interiors, adjustable bucket seats, and centre consoles. For the wagon, Euro influence meant the death of the drop-down wagon tailgate. Replaced by an upwards-opening door supported on gas struts, it meant the disappearance of another much-loved feature of the Aussie wagon – the tailgate window that could be wound up or down as required. During summer, the best place to be in the family wagon during a summer's cruise was the rear cargo area with the tailgate glass down, back where Mum or Dad couldn't use the rearview mirror to see the faces you pulled at following cars.
The onward march of progress made for safer, more comfortable and better-equipped cars. But it was a trade-off. Gone were the Coke-bottled hipped, dayglo-duco'd, V8-engined, six-seater cruisers. A Holden/Ford/Valiant wagon seemed to symbolise freedom and the open road, being the means by which a generation of kids went on holiday or a day-trip to the surf. Those kids grew up, and today a large percentage of them – hell, us – still ogle those legendary '60s and '70s family wagons we grew up with.
And we're willing to pay top dollar to get our hands on one to relive something in our collective youth – something that's been lost.
Vale the Aussie family wagon.

Raph Tripp is a Melbourne-based dad of two and lifelong car enthusiast. Check out his website Tunnel Ram, an archive of historic auto and pop culture, here.
---
If you're looking for an old-fashioned station wagon, you're a bit out of luck. The rise of SUVs has seen most auto manufacturers abandon the old family favourite. Those who have kept one or two in their range have started calling them "Touring", "Shooting Brakes", "Estates", and "Sportwagons". One thing's for sure, the marketers love putting kayaks on them. Here's some of the best.
Holden Commodore Tourer
Due in 2018, the Commodore Tourer is a re-badged Opel and is expected to be AWD with a V6 petrol engine option and nine-speed automatic transmission. (Kayak not included). 
BMW 3 Series Touring
With SUVs attracting higher tax rates in Germany, the German manufacturers have continued to build their Touring editions, the 3 Series is one fine example.
Mercedes-AMG C63 S Estate
Soaring from 0-100km/h in 4.1 seconds, don't be surprised if you have to clean up a bit of up-chuck in the back when the kids are around. But it'll be worth it, a stonking bit of kit. 
Audi RS6 Avant
4.0-litre V8. 8 Speed tiptronic transmission. All-wheel Drive. It's one of the biggest and most family friendly but not so kind on your wallet. If you got it, flaunt it, because this one has got it all.
Subaru Outback
The fact that the Outback has been named 'Australia's Best Car, All-Wheel Drive SUV, under $50,000.' Goes to show that the lines between wagons and SUVs are becoming more blurred. 
Ford Mondeo Wagon
With some pretty decent fuel economy numbers, the Mondeo is a good size with a decent range of features and is less expensive than most. 
Mazda 6 Wagon
Mazda's upped its game in recent years and enjoyed great success as a result. The 6 Wagon is a family-friendly alternative to their CX range and has enough go to get you moving.
---
---
---