Scottish Father-Son Duo Launch Gen-Hopping Radio Show
This is the story of My Generation: a unique, engaging, funny, often haphazard radio show that is broadcast from an old mental health institution on the Dumfries Community Radio online network. It is unique in as much as it is to my knowledge, the only father and son radio show to be broadcast in the UK — and possibly the world (I have googled this several times but I would be happy to be proven wrong).
The show came about through our family's love of music, an after-school job and the birth of a new radio station in a town not too far away. I had grown up in the 1980s amongst the lush, verdant hills and valleys of northern Wales and loved hip hop and rap music; I would listen to Afrika Bambaataa and Run DMC and felt like they were speaking directly to me and I could relate: they had junkies with baseball bats, block parties and their Adidas; I had sheep, more sheep and a pair of Gola high tops.
The one element that did really connect us, though, was dancing. My brother, his friend Tommy and I had a bit of lino, we had a stereo and we had a crew. We would pop and lock and spin on bits of our bodies. Funnily enough, where we lived was a community that was built up around a large steel factory which closed down, meaning that every family that lived there was made unemployed — and often homeless as the houses came with the job. The council took over the houses, moved a lot of the old families out, moved new people in and ended up ghettoising the community in as much as a North Wales community can be ghettoised.
I moved away when I was about 20, got married, had three kids and ended up in south-west Scotland. I continued to listen to music, albeit mostly through the radio as the kids initially were a barrier to going to a lot of gigs; latterly, living in a small town 100 miles from the nearest city was our main barrier to seeing live bands. 
Seth, my oldest son, had been my best friend for years, he is 16 now but was seven when we moved to Scotland. Most weekends would find us mountain biking with a couple of his friends. We would be out all day sometimes and just have loads of fun, if the weather was bad we would play PlayStation together or watch a movie; we even tried to learn the guitar together but I had to stop because the noises I was making were kind of offensive to others around me.  Then came the teenage years…
When Seth started to express his rebellious side and push the boundaries I would revert into the totalitarian style of parenting…
My dad had been the authoritarian while I was growing up. Don't get me wrong, I had a great childhood: a lot of freedom, parental input and support, but with my dad there was always a line. My elder brother and I used to cross this line. A lot. So when Seth started to express his rebellious side and push the boundaries I would revert into the totalitarian style of parenting. As I sit and write this it seems silly to admit my poor parenting style, especially as I have worked with children and young people for around 15 years, through social work services and youth work; in both of these roles I know that the totalitarian style of parenting does not work, but hey, we all eventually turn in to our parents, right?
Anyway, the harder Seth would push, the more rigid I would become; we would hit a stand off, he would hit a wall, I would have to repair the wall, I would have to repair our relationship, I would continue to parent the same way, Seth would continue to behave in the same way. Sometimes we could go for weeks without speaking, just shouting. It was horrible, and I was literally counting down the time until he could move out and go to college.
When he was about 13, I took Seth to a local pub. They were holding a fundraising event and had three bands playing. The first band was called Black Mango and consisted of, on vocals, the lad who worked in the local butcher shop; on rhythm guitar, the lad from the sandwich shop. The back line was made up of a boy who was the big brother of one of Seth's friends and bass guitar was played by the son of Seth's P.E. teacher. Lead guitar was the domain of Andrew, a guy we knew from seeing around town. This was a life-changing moment for Seth. He was listening to some music back then; AC/DC mostly and a bit of Jimi Hendrix, but seeing these real people, people who he actually knew getting up on stage and performing blew his mind. On the way home Seth said to me, "Dad, I want to start guitar lessons again".
Seth has stuck with his guitar playing and is now very good. His influences are bands like Nirvana, Foo Fighters, The White Stripes and Jimi Hendrix; all bands he ensures are on the playlist for our show most weeks. Last summer, Seth got himself a job to pay for a new guitar; he was washing dishes at a hotel across the road from our house, his usual attire would be his ripped jeans and one of his band t-shirts. The hotel proprietor, Chris, had noticed his clothing and instead of asking him to smarten himself up before entering his hotel, the two of them spent time talking about music.
Chris, with the help of his friend Darren, a mild-mannered deputy head teacher, had a heavy metal radio show and Chris asked Seth if he would like to come to the studio one Friday night to see what it was like. I was jealous; I wanted to go too. So I offered to drive. That first Friday night Chris had us reviewing two new releases by bands we had never heard of, in front of an unknown number of dedicated listeners. Their show, Heavier Than Metal, had been going for 10 years and had been syndicated to a New York based radio station. It was a buzz.
On the way home I asked Seth if he liked being on the radio. "I could do that for a job," was his reply. This was music to my ears as previous conversations about future plans had ended up with shouting, a slammed door and sometimes a punched wall. Planning for his future was something Seth was very worried about, but that he did not feel that I could help with.
Seth had completed a homework assignment for English; he wrote an essay about how all modern music is rubbish. He argued that, at that moment in time, four out of the top 10 songs in the charts had been written by Ed Sheeran, and the other six had all been written by some Scandinavian fellow whose name I can't recall but who is worth billions. I read his persuasive piece, I told him it was very good but that I fundamentally disagreed with it: yes, a lot of chart music is very similar because it is monopolised by a small group of hit-makers, but there is new music out there that isn't in the charts.
The pitch went like this: Seth said he would like to play the Beatles, Little Richard, The Kinks, The Stones; I said that I would like to play more up-to-date stuff… and it could be like one of those arguments about which era in music was the best, only this time, it is the young upstart arguing for the '50s and '60s and the old fart saying, 'but modern music is so much more exciting, and you can dance to it!'
We went to meet the station managers and on the way I was thinking about Seth's essay and how this would translate into a two-hour radio show. I knew the type of music I wanted to play and I could guess what Seth would want to play, I thought the station bosses would say chose one or the other.
The pitch went like this: I spoke about Seth's homework; he said that he would like to play the Beatles, Little Richard, The Kinks, The Stones; I said that I would like to play more up-to-date stuff; we could call the show 'My Generation' and it could be like one of those arguments people get into about which era in music was the best, only this time, it is the young upstart arguing for the 50s and 60s and the old fart saying, "but modern music is so much more exciting, and you can dance to it!"
Thankfully, the network went with it and we were given our slot; two hours on a Wednesday evening, from 6 pm to 8 pm.
Now we had to put a show together. I insisted that Seth come down out of his room and contribute 50% with the playlist and writing the content, plus he had to get a Facebook account and start promoting the show. We had an argument instead and Seth stormed off. Off to a bad start. I ended up putting the first show together myself. And the second. And the third. Maybe I needed a different tact? Seth was absolutely loving doing the show, he was happy with my music choices (most of the time), and he was always really excited to go to the studio on a Wednesday evening. I decided, with some help from my wife, that I would go for an opt-in approach as opposed to an opt-out-and-storm-off style of collaborative working that meant that I was doing everything by myself anyway. I made a playlist on a music streaming platform and told Seth that he could add anything he wanted to play on there. Some weeks he had lots of input, some weeks less. He often got requests from his friends or kids from school, and he played records for his teachers too. 
In the spring, we played a record by an artist called Tom Williams and tagged him on our Facebook page, Tom got in touch to say thanks for the support and put us on his guest list for one of his gigs in Glasgow. We had a great night and got a signed album. Another perk of volunteering for the network is that there are often press passes for local events: we went to Eden Festival at the start of the summer; that was Seth's first proper festival. We got to go back stage and interview some of the artists; in fact, one of the jingles we use on our show comes from that interview. We attended the inaugural Doonhame Festival, again with staff passes to get back stage to interview bands; the videos of these short interviews are all on our Facebook page too.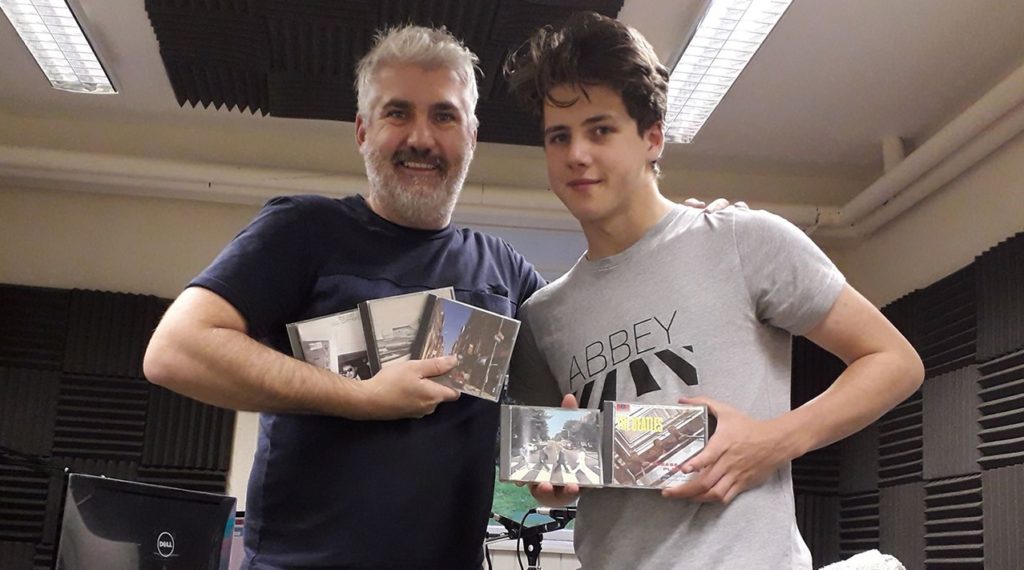 Seth and I don't see eye to eye on everythin and communication can still be an issue; we had a family holiday in the summer during which I nearly put him on a train back home as we were just bickering constantly during my only two weeks off of the whole summer. But at least now I know that by Wednesday we will be friends again. One Wednesday I was insisting on getting an apology from Seth for something he had done before I would take him to do the show. I was using the show as blackmale or leverage or something; anyway my plan inevitably backfired and we ended up fighting again, my wife wisely insisted that we still go and do the show. I drove to the studio, me in silence, Seth with his headphones on. Not speaking. I did not want to do the show. However, we just started playing records and talking; three records in we were hugging and apologising to each other. We talked all the way home.
I still write most of the show, the factual stuff anyway, and I tend to keep it one or two bullet points per track. We then go through this together and add notes as we go. Seth ensures that the surviving Beatles are getting the royalty cheques they deserve as well as choosing plenty of classic rock (we have a listener who will only listen if we play Led Zeppelin every week).  I keep bringing the funk to the show and I like to let him know that when we play the Isley Brothers that a certain James Marshall Hendrix was once their guitarist. And he always nods his approval when I tell him we have got a song by Bill Withers on the playlist. I make sure that there is always three or four brand new tracks on the show each week and we try to support the local bands as much as we can. He even enjoyed dancing along to some of the funk and soul bands I took him to see at the festivals this year.
This year Seth signed up to do a digital arts and media course through school and has started to think about a direction and possible outcomes for his young life — which is music to his mum's and my ears.
Daniel Rowley lives in south-west Scotland with his wife Debbie and children Seth, Hope and Freddie. You can listen to the 'My Generation' radio show he co-hosts with Seth on the DCROnline website, by downloading the DCROnline app from the app store, or via Mixcloud (just search for My Generation with Seth and Dan).

---
---
---