Win-Win at 8bit.
One of the benefits of the (rather tiresome) burger craze is that it gives ample excuse for we dads to indulge.
After all, how can you go wrong taking your kids to a place whose main drawcard – American-style burgers and fries aside – is a weekly-rotating chocolate bar shake?  (On the night I called in the shake was Mars Bar-flavoured, but it could easily have been Snickers, Twix or, heaven forbid, a Crunchie shake. Way to get the kids jumping out of their skins.)
Footscray's 8bit. also offers one last softener, particularly for those of us who were kids in the 80s, with its rustic retro feel extending to a multi-game arcade machine (Pacman, Galaga and the like) in the corner.
There's plenty of bench and table seating, while the burgers, hot dogs and sides (the onion rings are hefty and, naturally, artery-clogging) stand up well in a crowded market.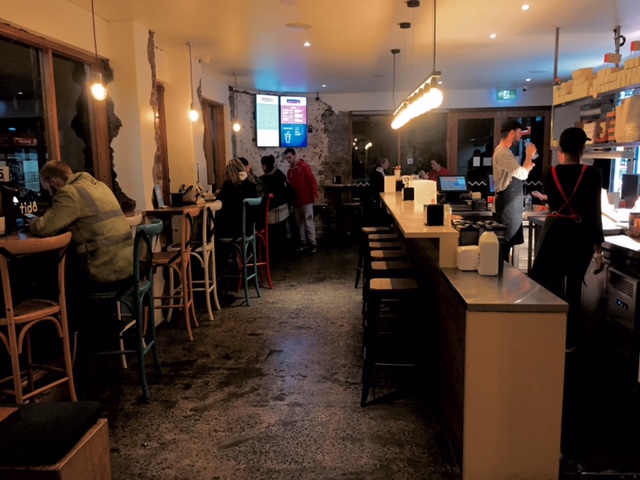 The burgers are whipped up in minutes, and, indeed, there's a refreshing, anti-Instagram slap-dashness to them. Best of all, they taste like a burger should.
Video-game culture dominates the names of many of the burgers and dogs. The Double Dragon – double beef, double bacon and double cheese – is popular with those with eyes bigger than stomachs, while the 1UP Mushroom Burger, the Golden Axe fried chicken burger, the Wonder Boy, and 1942 dogs are other favourites.
I opted for the After Burner, which didn't prove as spicy as I'd anticipated (although there's Sriracha sauce available for an extra $1), but was still delicious.
If you're a western suburbanite, and perhaps a little seedy of a weekend, take 8-bit as an opportunity to please yourself, and the kids.
Because this place is all about you – even if you can disguise your motives as being about them.
Win-win.

8bit.
8 Droop Street
Footscray
http://www.eat8bit.com.au/
11am-11pm daily
---
---
---