Mother's Day: A Gift Guide Curated By Mums
With Mother's Day less than a week away now (yikes!), we've asked six mums what's on their wish list for next Sunday.  You can thank us later.
Nicole Highet, Founder and Executive Director, Cope – Centre of Perinatal Excellence:
"On top of my wish list is a a T-shirt or sweater from The Hood. The On Duty design is my personal favourite. Not only does it look great, it acknowledges that dad and the kids recognise and truly appreciate that mum is pretty much always 'On Duty'.
The design comes in a sweatshirt which is perfect for this time of year and makes a great, timely gift for any cool mum."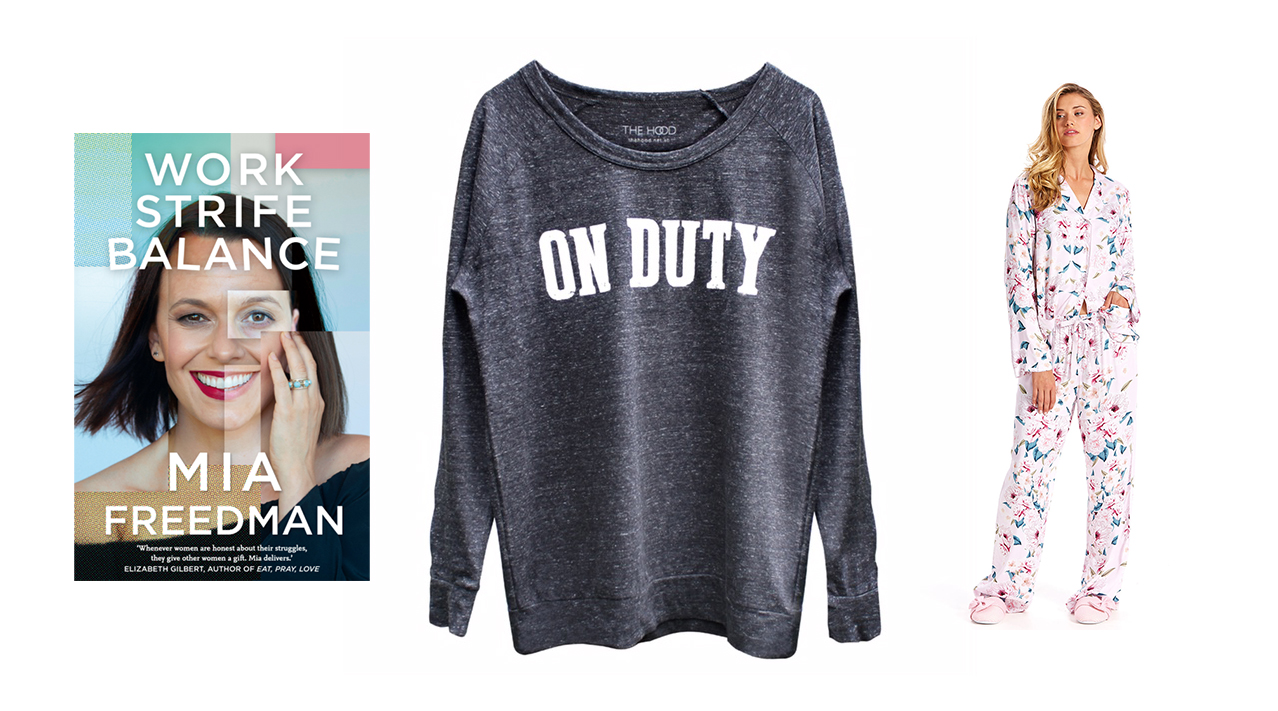 Erin Giansiracusa, founder,The Mum's Group:
"I'm basically a nanna. My ideal day would be spent in my PJs, sipping mugs of hot tea and reading a good book, or soaking in a hot bath, without a little person asking to hop in! I mean, I love my family, of course, but a moment of solitude would be kinda fab!
With that in mind these Peter Alexander jammies which you can even get personalised [for an extra $14.95], just in case anyone forgets you go by the name 'mum', would totally float my boat this Mother's Day."

Nami Clarke, founder, Little Tsunami:
"The quality of a Mother's Day gift is measured by its ability to make the recipient forget just how tired, unkempt, daggy, over-scheduled and slightly crazy they are. Therefore, any Mother's Day gift that requires me to be upright, dressed or functioning immediately fails this quality control test. Instead, my dream Mother's Day rolls out like so…
Doorbell rings and a voice booms 'I've come to clean ze car!'  Proceeds to remove kids car-seats from my car. All toys, drink-bottles, craft projects, apple cores, rogue McDonald's chips, barbie dolls and…what actually IS THAT?! I can't touch it! Never mind. An assortment of unidentifiable matter is extracted from the vehicle.  That beast is scrubbed from top to bottom! Vacuumed! Polished! Sooooo shiny. Now, please, leave the car seats out – I will drive my immaculate, proper adult car around for the whole day (OK, I will get dressed and be upright for this), glancing casually in the rear-view mirror to the empty back seats, pretending that I am again young, wild and free! No one may enter the shiny, sparkly, clean vehicle, except me.
Now, watch me drive down past our street as I toot and wave with glee (kids crying; hands and faces pressed to the windows waiting for my return. NB: I have been gone for approximately 17 minutes, 22 seconds). Soon, my destination glitters on the horizon. Bloody hell; OK, fine, it's in a shopping centre but just stick with me. I enter a warm, darkened room; music plays gently; a total stranger asks me to strip off most of my kit and I DON'T EVEN HAVE TO TALK TO THEM while they massage me for a whole hour. (Or smooch them, or return favours of any kind for that matter!)
Getting off this bliss train is the hardest part. I ease myself out of Mother's Day pamper-mode and back into reality by dipping into a new book: Work Strife Balance by Mia Freedman. Ah, the comfort of knowing I'm not alone in juggling this crazy, full-to-the-brim, exhaustipated, loony life!"

Kimberley Smith, founder, The Fit Mommy Project:
"I always feel a bit guilty taking time out to pamper myself. So I would love a gift voucher to a beautiful day spa somewhere. I've dropped several hints about the Darling Spa at the Star Hotel in Sydney to my husband (this being the biggest of them all!). Just to enjoy being treated like royalty and have absolutely nothing to do for a few hours would be absolute bliss. That and a homemade card from my girls would be the perfect day!
And of course, for any mum who want to feel beautiful, fit and strong, The Fit Mummy Project Guide is the complete post natal fitness and well-being guide loved by mums everywhere."

Raquel West, Office Manager, Simon West Fine Jewellery
"My ideal way to spend the day would be an uninterrupted sleep and sleep-in, starting from the time I go to bed the previous night until I wake up the next morning. Followed by breakfast and cuddles in bed with the kids when I finally wake up.
In terms of gifts, I have received mainly jewellery or perfume in past years which I love, but this year I'd love to go out for lunch!"

Belinda Vaartjes, owner, Belijoy Baking:
"With every approaching Mothers Day, I always think I know what I really want and that somehow my husband and boys just telepathically know it too; but let's not kid ourselves, our wants often change with the wind (or time of the month)!
But 14 years later, I find that the real 'treasures' I value are the ones that come home from that Mother's Day stall at school or the piece of jewellery the kids have lovingly made the whole afternoon before –  even though I have a drawer full of the same thing.
In this day of technology and business overload, if our kids take any time at all to choose a gift THEY want to give, I think that's the best gift of all! So let them loose at 'that Mother's Day stall' at school or with a box full of loom bands, knowing that their heart is in it.
But if all falls apart the day before, dad, the best back-up gift is lots of chocolate and a day full of hugs!"
---
---
---