Introducing the Nail Snail
In the world of baby maintenance, nail-cutting is right up there in terms of being challenging and even dispiriting. A wriggling little human can, of course, result in a nasty cut that might also give your eardrums a fair workout.
The Nail Snail, a spanking new nail trimmer, could put an end to this nightmare.
Featuring an ergonomic snail-shape design and an ambidextrous handle that makes it easy to hold, the three-in-one device allows for safer and quicker trimming of both fingernails and toenails without the risk of cutting.
The Nail Snail is the brainchild of mum-of-three Julia Christie, who recognised the need to improve baby nail care the moment she accidentally cut her firstborn's fingertip with clippers. After trying every nail cutter on the global market, Julia decided to design a trimmer that would have parents' and bubs' best interests at heart.
Two years of research and development – and multiple prototypes – later, the Nail Snail landed. Its innovative V-shape blade is designed for multi-directional trimming and allows to safely navigate along the delicate nails of babies, toddlers and single-figure-aged children. It also has an integrated file to smooth off any sharp edges and an under-nail cleaner that removed dirt and germs.
The friendly design, meanwhile, might just help convince your children that this whole nail-cutting business forms part of a playtime scenario.
If you're searching for a neat little gift for a new parent, or to give a mum-to-be at a baby shower, or you're a parent in search of an everyday essential that will help you alleviate nail-cutting stress for years to come, look no further than the Nail Snail.
For more information, and to purchase, visit www.nail-snail.com.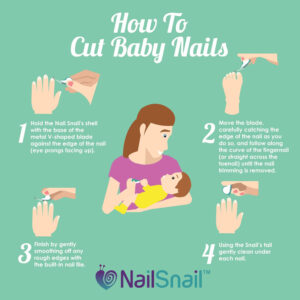 ---
---
---