Meet Jason Gangwish, Author, Ivan the 1/2 Inch Worm
Jason Gangwish is a children's author and father of five from Iowa, USA. His newly-released picture book, Ivan the 1/2 Inch Worm, a delightful parable on the importance of always doing your best, was recently released to widespread praise. Jason took some time out of his schedule to field some questions from The Dad Website's Daniel Lewis.
Thanks for your time, Jason. How did the idea for Ivan the 1/2 Inch Worm come about?
I was helping one of our boys with his school work, and I knew he was giving half the effort (if that) to his maths. I knew that he knew how to do the work, and it was a simply work sheet, but he simply wasn't doing the best he could do… it was then when I gave the example of an inchworm that didn't stretch his full inch (even though the inchworm could, he decided not to). From that point I knew it was a book I needed to write and I couldn't stop thinking about the storyline; I knew that I needed to follow through and write the story!
Take us inside a house of five kids – I'm assuming it's a lesson in "controlled chaos"?
We have five boys – aged 12, 10, seven, five and two. We have lots of dirt and noise!  When my wife Lesley and I were first married I thought we would have three… she thought we would have four, then once we had four we didn't feel like our family was complete! My wife is a supermum; we have decided to homeschool our kids for now and we embrace the everyday as a platform to learn!
What do your kids think about Ivan?

They have really enjoyed the process of Ivan the 1/2 Inch Worm – it's been fun to teach them about writing and following through and working hard! It's funny – many of our meal conversations are thinking up new storylines for animals that can teach us a lesson (or two). I have gathered many ideas from these times and have a few I'm ready to pull the trigger on!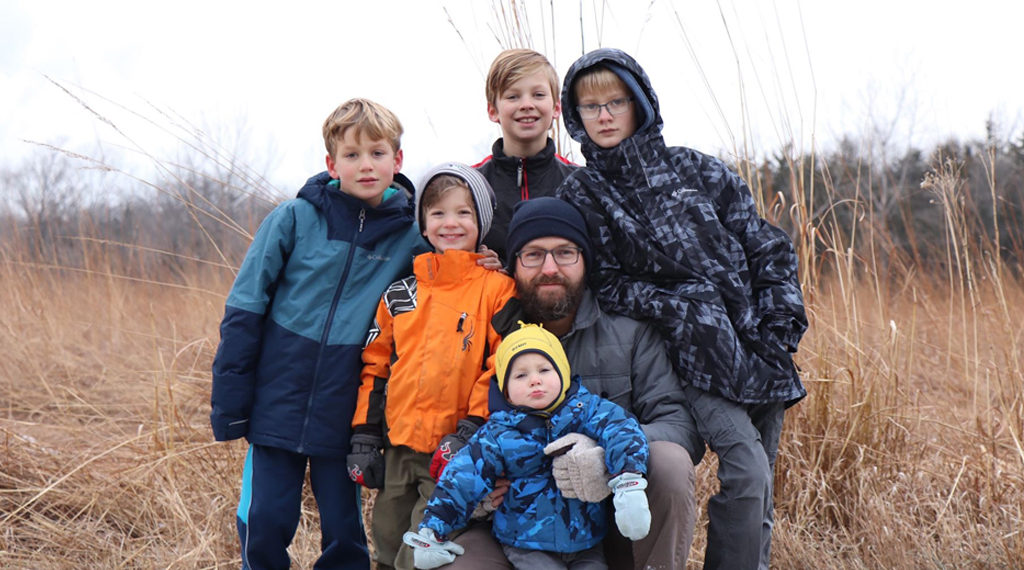 Your five favourite kids' books — go!

Where the Wild Things Are (Maurice Sendak)
The Legend of Rock Paper Scissors (Drew Daywalt)
Little Blue Truck (Alice Schertle)
If You Give a Mouse a Cookie (Laura Numeroff)
The Giving Tree (Shel Silverstein)
What's your main goal as a storyteller?

I want to draw out the best in people. I want to inspire them to rise above difficult circumstances they may be in, and see their surroundings from a different perspective!
What does being a dad mean to you?

I love being a dad! I love to teach in every situation (although it can be tiring, it's worth it!) I want my kids to have integrity, honour, respect, and serve the people they are around. Being a dad is a constant giving of yourself. I always say, it's the hardest and best thing all wrapped into one.
Any book tours on the horizon for Ivan?
We're starting to read at pre-schools and libraries close to us – we'd love to connect with people who may have interest in a reading or visit from Ivan!
Visit ivantheinchworm.com for info, updates, and locations to buy Ivan online. You can follow Ivan on Facebook, Twitter and Instagram.
---
---
---