It's Book-mas Time – Great Christmas gift ideas for kids
There are a lot of great Christmas gift ideas for kids. While most of them go bing and whizz, here are some great Christmas book ideas that will make kids go "wow"!
Mr Bambuckle's Remarkables – Tim Harris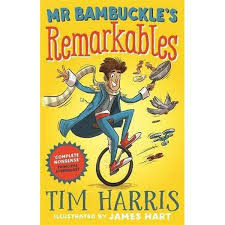 It makes sense that former primary school teacher Tim Harris would turn to the classroom for his latest book "Mr Bambuckle's Remarkables". In this terrific read, Harris assembles a classroom full of wonderfully neurotic kids that parents of school-aged children will have no issue recognising even if your kids don't. The class of 12B are encouraged by their Willy Wonka-ish stand-in teacher Mr Bambuckle to share remarkable stories about themselves, the Parental Rental tale complete with Kilt of Fire was a particularly big hit with our kids of 8 and 11. It's a fun read that weaves the beautifully absurd into been-there-done-that scenarios and kids of most ages will get a kick out of this one. The layout itself is particularly user-friendly with nice spacing between the lines for kids who have a habit of losing their place.
Icky-Foodia – The Listies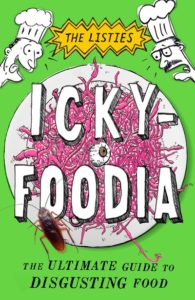 Aussie comedy duo The Listies have returned with another round of wonderfully wacky wordplays as they deliver their guide to all the disgusting foods, horrible recipes and weird meals that don't get covered in other food books. It has a beautiful blend of cleverness and creativity that carry on the traditions established by the likes of Roald Dahl and Spike Milligan. It's worth noting that this is a book that is probably better suited for the older kids, there are a lot of very funny jokes that need a wider life-knowledge to fully appreciate than the little ones may have. Having said that, "Knitting Nibble – What you snack on when you are making a scarf" may be just what the knitting industry need to help them remain relevant. I also wouldn't mind having a crack at a Lambmington on Australia Day. (For our non-Oz readers, a lamington is a cake, dipped in chocolate, dipped in coconut – or as a Malaysian friend once called it "Chocolate coconut cake".) This is a must-have for kids who love language and love to laugh.
Diary of a Wimpy Kid: The Getaway – Jeff Kinney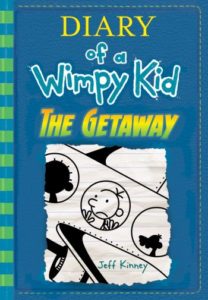 This is the 12th book in the fantastic "Wimpy Kid" series that has also dished up some great family movie versions. Once again Jeff Kinney brings the Heffley family to life as they embark on another family adventure filled with very relatable family quirks and family foibles. This time they decide to swap another wintry Christmas at home with a much-needed tropical island escape. What could possibly go wrong? As any parent who has tried to navigate an airport with kids will tell you, plenty can go wrong and Kinney captures it beautifully. The "Wimpy Kid" series continues to be popular with kids and parents alike and fans of the series will love 'The Getaway'. (I for one would like to volunteer to scout the world for a suitable island paradise when it comes time to make the movie version.) A great book for the holiday season, you may need to grab a couple of copies to avoid the inevitable Heffley-like squabbling over whose turn it is to read.
Ali-A Adventures – Game on – Ali A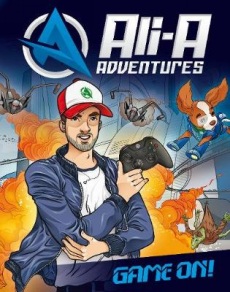 Who is Ali-A? For those who aren't in the know, Ali-A is one of the world's biggest gaming vlogging superstars with over 9 million subscribers to his YouTube channel. He is best known for his Call of Duty gameplay videos and is a big hit with the gaming kids. Chances are when you ask your kids what they're doing on YouTube, they're watching this guy. Or that Minecraft guy with the slightly more annoying voice. Anyway, in 'Game On' Ali-A turns his hand to a comic book-style adventure where a merciless band of aliens from a computer game come to life and terrorise the world. Ali-A, real-life girlfriend and fellow gamer Clare and their dog Eevee combine forces to save the world. Or do they? Yes, they do, it's a comic. Good always triumphs in comics. Young fans of games and gaming will enjoy this read complete with its nicely done graphics and good vs evil storyline.
My Magical Life – Zach King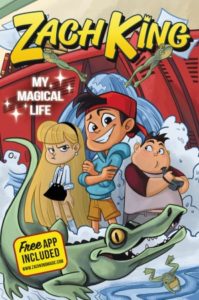 Who is Zach King? I have to admit I had no idea but this go-getter is going and getting himself a pretty full CV. Filmmaker (who creates videos with a hint of magic), social media bloke, Ellen guest, The Amazing Race contestant and now author. He's so much of a go-getter that he went and got a team of people who helped him with the book and by "team" I mean 12 people! What's up with that? Anyways, you don't want an old fogey like me telling you about this book, so I asked my son.
Me: "Can you please read this and tell me what you think."
Son: "What is it?"
Me: "It's a book."
Son: "Der dad, what's it about?"
Me: "It's about an 11-year-old with magical powers who hasn't found them yet but goes to school and his powers are unlocked then he meets Rachel who's the loveliest girl in school but there's a mean girl who's plotting to take him down with a major prank and Zach has his work cut out to keep his secret and survive Year 7."
Son: "Sounds good, tell them I liked it."
So there you go.
---
---
---