TIMIO: a Screen-Free, Educational Tech-Toy for Kids
TIMIO is a screen-free educational audio and music player for kids that was created with both parents and children in mind. It's a toy that grows with kids from infancy into school while developing their vocabularies and imaginations, and promotes safe play and the use of all senses.
Basile Fattal, the Amsterdam-based creator and managing director of TIMIO, is a dad foremost. The idea for TIMIO sprung from concerns that his children were getting too distracted – and too reliant – on technology. He says TIMIO is a tech-toy that focuses primarily on the development of cognitive thinking and understanding, and one that parents can rely on in an era of screen dependence and digital overstimulation.
"We believe in keeping high standards for the things children play with and learn from," he says. "TIMIO helps children build connections between sounds and images that will turn into the vocabulary they will forever use to understand and interact with the world around them."
TIMIO offers a wide library of magnetic discs to unlock a library of curated educational and engaging content on various subjects for multiple ages, and in five different languages. The alphabet, fairy tales, nursery rhymes, numbers, lullabies, fruits, animals, colors and time are just a few of the disc categories.
Sporting an easy-to-use design, TIMIO has an ergonomic handle, rounded edges, a real speaker with a three-volume setting, a headphone jack and an auto shut-off feature.
With only a few days to go until their Kickstarter campaign concludes, TIMIO has smashed their original of €20,000. For more information, visit timio.co/ or TIMIO's Facebook page.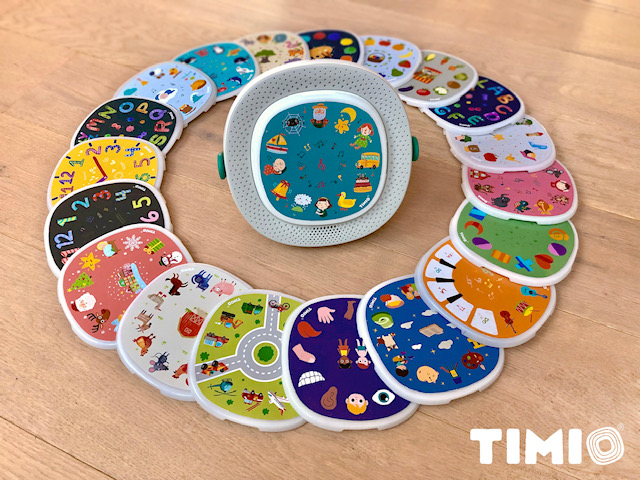 ---
---
---