Top Christmas Gifts For Kids, 2017
Christmas is almost here and now is the perfect time to start thinking how you can surprise your children because their smile means more than anything. Picking the right gift can be tricky because kids grow up quickly and can easily get bored. Toys that can occupy them for hours are a must.
Here's a list of games both entertaining and stimulating that I'm sure your kids will love.
Jimu DIY Robot Buzzbot & Muttbot Robotics Kit
For kids who display engineering preferences from an early age, this robotic kit makes a great toy. Aimed at ages eight years and above, it offers kids the opportunity to make their own robot. Any robot they make can walk, turn their hands and legs and even jump. Use your smartphone to download a step-by-step guide for the first robot and after that, the sky's the limit.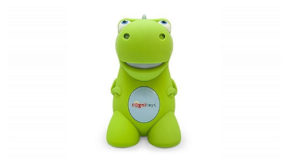 Dinosaurs have a special place in children's hearts, especially when they are as cute as this one. This little Dino from CogniToys is educational – it tells stories, answers questions and even makes jokes gadget tells stories, answers the questions and even makes jokes – and improves your children's social skills. Recommended for kids aged 5 to 9, it's easy to set up and completely safe.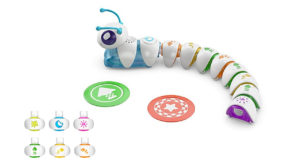 This toy is for younger kids (3-6 years) and a great toy for healthy development. Fisher-Price is a famous name in kids' toys so you can expect quality. Toys like this caterpillar are perfect for developing critical-thinking skills because kids have to use the body of the caterpillar if they want it to move in the desired direction. Every part of the body has one sign on it and kids have to connect those signs to the caterpillar's head to move the toy. Sure to keep your kid's attention for a long time.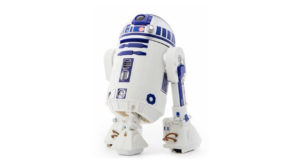 One of the most famous movie droids has finally got its toy. This is not Sphero's their first Star Wars droid – there's already a BB-8 – but there are few things better than R2-D2. You can control the it with your smartphone, which is great because you don't need special controls for it. Also, the droid produces that famous BEEP-BOOP sound, just like the movie character. It's for kids aged 8 and above, but many adults who will enjoy R2-D2 as well.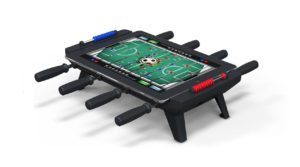 New Potato Technology brings the foosball experience to your iPad with this app-enabled pocket version of a foosball table. The gadget has four rods on each side of the table which means that you have to spin them in real life to move them in the app. Definitely a gadget to catch and hold your kid's attention.
Mark Cop blogs at Foosball Zone, a site in which he shares his love of all things foosball.  
---
---
---