Dan Gibson, Co-founder, The Baby Gang
Dan Gibson is a resident of Ontario, Canada. He works for the Royal Bank of Canada, is a keen photographer and vlogger, and is passionate about fitness and nutrition. He is also a father-of-four – Emily, who is 3, and 21-month-old triplets Jackson, Levi and Olivia – and, along with his wife, Corrie-Lynn Whyte, launched The Baby Gang to social media acclaim in 2015.
The Dad Website snatched Dan from his action-packed schedule to chat about The Baby Gang, fatherhood and, of course, day-to-day life with triplets (and four kids under four).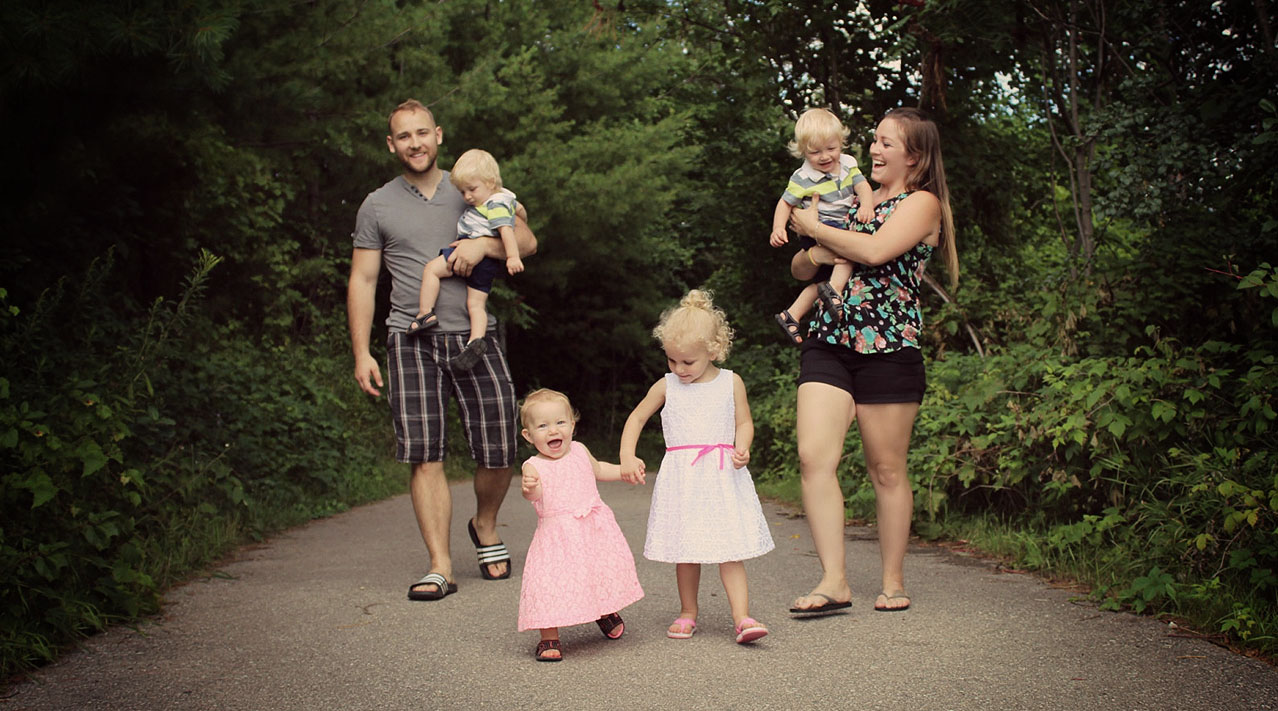 Thanks for your time, Dan. Tell us about The Baby Gang?
It was inspired by our four children. Prior to having kids I was always into learning new things and seeing what skills I could develop, which included producing music and creating videos of random adventures. After having kids, I transitioned my skills to focus more on my family and having fun creating cute and fun baby/family videos.
It started with Emily. In May of 2015, our triplets were born and it amazed me to see the happiness, joy and attention our kids brought to everyone around them! In November, after thinking about the idea I thought it would be great to create a Facebook page to focus all our postings to one central location. It was a good way to create memories for when they are older as well as an idea to share our experience as young parents with multiple children.
Was it an immediate hit?

The page started off locally very well with friends, family and others who would see us out and about. In a month we had approximately 500 followers and by the end of January we grew to 1500… which we thought was a lot!
In February of 2016, I posted Mom vs Triplets + Toddler and that is when it all took off.
Currently we have just shy of 500,000 followers and a view count in the 100 millions. We have always posted on our channel often, and have tons of amazing family-friendly video content and are still in shock with how we have been recognized on a local and global scale.
One thing we love to do is go live on Facebook, and just have everyone shout out where they are from just so we can see where all of our amazing followers are based. Simply amazing – and a true blessing.
The Baby Gang continues to grow as a brand and we have many existing, and upcoming partnerships with Playtex Baby, Pampers, Schick and so many more.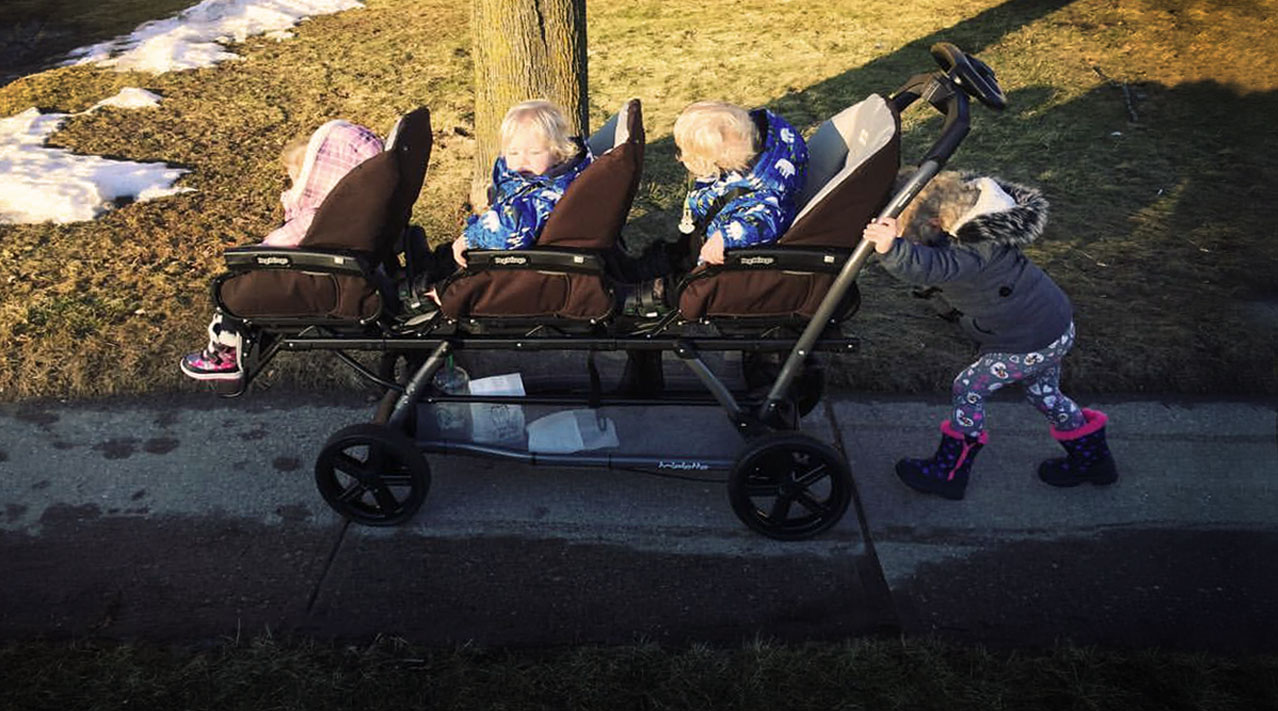 Tell us about life with triplets AND a three-year-old?
Life is full of mixed emotions. It is crazy, scary, exciting, fun, sad, adventurous and everything in-between! A few things I have learned is that you lack skills in one area but excel in others; and after having two children or more that life becomes a blur. Everything has to be planned and thought-out because you always have to worry about the kids. With [multiple] children no day is ever the same, and happiness is always within reach.
It must have been quite a shock when you found out you were having triplets?
So our triplets were natural, which is still mind-blowing to me. We were planning to have baby No.2 and found out we were expecting from a pregnancy test. My wife ended up going to the ultrasound appointment by herself; due to my work schedule I was unable to go. I had that thought, "Oh, we have been through this before, I will go to the next appointment…" (Total dad-move, right?)
During her appointment, the technicians were trying to figure out how to tell her she was expecting multiple children. Then one worker got so excited she yelled: "This is the most paper I have ever printed!"
Anyway, my wife drove to my work and pulled out the longest piece of ultrasound paper I had ever seen. The pictures reflected different movements, like one head on the right and in the next picture the head on the left. I was excited and yelled, "Wow, this is one active baby!"
My wife said, "No, it is A, B, C…"
I was totally oblivious and after three attempts of hinting "A,B,C…" or "1,2,3…" she said, "No, you don't get it… we are having TRIPLETS!"
From there, after almost passing out, we told our families and no one believed us. Still shocks me every day.
What does being a dad mean to you?
A great quote I actually live by is "Any fool with a dick can make a baby, but it takes a real man to raise his children." Being a dad to me is special!
Your kids make you feel like you are the most important person in the world, like when you come home after a long day's work and they come running to greet you like you are a super hero. Because you are.
How do you go with couple-time?
We are very positive and patient people (so we think). We just know each other inside and out and have such a great partnership. Our relationship is by no means perfect, but we just have such a great outlook on life and love parenting as a whole. In terms of couple time, we do our best to get out of the house for a date night. We try to rely on close family to watch our kids as we are particular about who watches them. It is constant adjustments, but we love doing everything as a family as well.
Do you have any advice for anyone expecting multiple bundles of joy?
I love giving advice, but always tell expectant parents to keep an open mind because what may work for me may not work for them.
1. Just remember you are only one person, and as much as you want attend to each crying baby at once, you cannot! It is OK to let a baby cry as it will build up some good independence. I always go for the one who I think is the most fussy.
2. Take time to look after yourself. How can you expect to look after multiple children or even one child, if you cannot look after yourself. Put your baby in their crib, or swing (whatever works) and take a shower!
3. Rely on your significant other to help. You are a team and nothing will work if you are both not involved. This is a tough one, because according to mums, dads seem to lack in this area. Come up with a game plan! Relying on family is great as well.
4. Accept the mess of your home. It will never be the same again.
How do you think the role of a father is perceived today?
I feel like there is a huge disconnect between the thoughts of a dad from a mum's view and the thoughts of a dad from a dad's view. The responses would be a complete 180. I know some incredible dads and they do a great job representing fatherhood. Dads are important, and that is how they should be perceived.
Do you see the world in any way differently now than when you were child-less?
The world is a totally different place; my kids have truly changed my perception and outlook on life. When something negative happens, locally or globally, I always consider how a certain situation would make me feel if that were my child. My goal as a father is to be the biggest and most positive influence in my children's lives; to raise kind-hearted and caring individuals.
One of the first things I did when my children were born was becoming an avid blood donor. I thought it would be a great way to show how doing a simple thing like donating blood could make a difference in our community and other people's lives.
Five things your children should all know by the time they turn 18?
A few things: how to save money and be financially responsible; how to have a good work ethic; to understand that it is OK to fail at something; remember what they are good at; to appreciate the good and learn from the bad. This list could truly never end.
Mom vs Triplets + Toddler!A must watch! .. Give super mom a share! Like our page! The Baby Ganghttp://www.youtube.com/user/DanGibsonTV?sub_confirmation=1

Posted by The Baby Gang on Thursday, February 4, 2016
---
---
---