Prof's Point of Brew: Stone & Wood Pacific Ale
On the surface, Pacific Ale is Stone & Wood Brewing's flagship ale and the beer that made the brewery's name. Scratch that surface and what becomes evident is that it is far more than just a refreshing and well-constructed Summer Ale.
The beer.
The beer itself is simplicity in a bottle. A single pale malt, with the addition of a small amount of wheat malt for head retention, then the Australian-developed Galaxy hop for bitterness, flavour and, most importantly, aroma. Big fresh notes of passion fruit and lychee on the nose bely the easy drinking nature of this beer. Unfiltered, and therefore a little cloudy, the body is light and clean yet very moreish at the same time. A crisp, dry finish leaves the palate ready for more.
The style.
Pacific Ale is the classic example of The Beer with No Style. Originally perceived as a draught (on tap) only beer to be served in the local Byron Bay/Northern Rivers region, it soon became apparent that many outside of the area wanted in on this new and exciting ale. A bottled version followed and 'Draught Ale' was renamed 'Pacific Ale'. For those who really need to pigeon-hole their beers into a style, this one is either an Australian-style Pale Ale or an English Summer Ale, for which it claimed a Silver Medal at the 2016 World Beer Cup.
The brewery.
Is it possible to 'cruise through life in the left lane' and still be an innovative, cutting edge outfit driven by keen and clever business minds seemingly destined to rule the Beer World from the tower of an ever-expanding empire?
Yes. Yes, it is. The three drivers behind Stone & Wood are a brewer, a sales genius and a marketing guru who all came from the corporate beer scene to set up digs on the edge of the Pacific Ocean at Byron Bay. A larger second brewery has been built just to cope with demand and the popularity of the Pacific Ale, the four other core range beers and a series of collaborative and commemorative beers has seen the brewery's reputation flourish.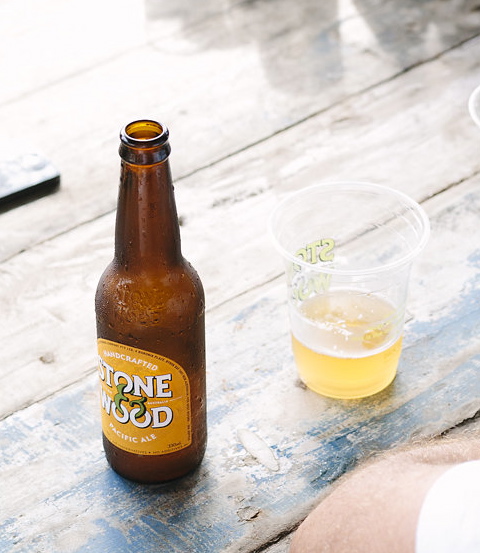 The name.
Stone and wood refers to the medieval process by which beer was sometimes brewed. In the forests of Germany, brewing during the colder months was hampered by the frosty temperatures. To speed up the process, brewers heated volcanic stones on a large wood fire. The stones (stein in German) were plucked from the fire and plunged into the sugary brewing water, raising the temperature to boil the brew. An unexpected side effect was the production of toffee apple-like caramel sugars which formed around the stones and then fell off to flavour the beer.
A very simple, almost primitive process led to a new beer style and a rich brewing tradition which Stone & Wood continues today with their seasonal Stone Beer, made in homage to those clever and innovative medieval brewers.
Stone and wood refers to the medieval process by which beer was sometimes brewed.
The lesson.
Sometimes, as dads, we can be a little 'one dimensional' when it comes to our approach to some things. Discipline, education, household chore division – they all pass through a sort of 'this is the right way' filter. Like a fresh Pacific Ale, sometimes simplicity is the perfect answer. Keep it simple. Don't overcook it. Don't overthink it.
And, like the guys at Stone & Wood, as dads we can do ourselves a huge favour by recognising that we can take a calculated and clinical approach to situations which will contribute to successful outcomes, but we can deliver them in a cool and casual manner. This way, outcomes are achieved but we don't need to put on a special authoritarian hat to do it. Stone & Wood have carved a successful and strong business based on serious business discipline but have maintained their quintessential beach-bum character.
Also, like those medieval brewers, sometimes it pays to keep an open mind to possible solutions. Ask yourself: "What are we trying to achieve, what is its essence? Is there a basic and no-frills solution to what might appear as a complicated and convoluted situation? Hey! What if I took these stones and super-heated them on this fire? Hmmm?"
See also:
Prof's Point of Brew: Why Good Beer is good for you
Prof's Point of Brew: Mountain Goat Steam Ale
Prof's Point of Brew: Bad Shepherd Brewing Hazelnut Brown Ale
Prof's Point of Brew: 4 Pines Kolsch
Prof's Point of Brew: Hawkers Pilsner
---
---
---